Must Visit Places in Italy
Naples
Rome
Milan
Florence
Venice
Naples
Rome
Milan
Florence
Venice
Naples
Italy is blessed with miles of coastal nirvana and Naples on the western coast of the country is a lively destination if you're looking for panoramic landscapes with an exceptional treasure of art and cultural riches.
With a history going back to the Neolithic period, the 3rd largest city in Italy is a captivating tale of myth and fact knotted into each other to become an enthralling entity. The two royal palaces, three castles and delicately preserved Chapels and Cathedrals carry some of Christianity's oldest and finest frescoes, mosaics and sculptures.
The resplendent Bay of Naples is distinctly defined by two major places- Sorrento Bay to the south and the large volcanic area of Phlegraean Fields to the north. Naples lies in the center of this arc with the stately Vesuvius directly behind it. Mount Vesuvius - the only volcano in mainland Europe that has erupted in the last 100 years - has created a natural masterpiece over the course of the millennia by the volcanic eruptions and lava flows that have crayoned a nonpareil landscape.
But dramatic landscapes are just one side of the story of Naples; the other part is made up of the heavenly blue sea. Although Capri is the most famous of all islands off the coast of Naples, other islands like Ischia and Procida possess similar vivid landscapes, rugged coastline and quaint Italian villages that fascinate every Italy tours visitor with its cobbled streets and unruffled lifestyle.
The magnificent Mount Vesuvius not only provides a breathtaking backdrop, its rich volcanic soil also acts as the perfect stimulus to the bountiful seafood to make Naples a gourmet delight. Widely recognized as the birthplace of the pizza and espresso, streets of Naples are bursting with appetizing Italian and Mediterranean dishes, making it impossible to stick to your diet goals, if at all you decided to carry them to the epicurean El Dorado called Italy!
Best Things To Do In
Naples
Rome
Romantic Rome- That was the first expression after my first day on my Italy vacations here. The ancient city now comes with all the flourishes of an ultramodern cosmopolitan metropolis, yet remains an open air museum at heart. Absolutely natural for a place that is the center of urban development for more than 3000 years.
This prosperous past has given the breathtaking cityscape a piquant mix of ancient icons of a bygone era like the Colosseum, Roman Forum and Pantheon and imposing basilicas that stand tall even after a few centuries, with the distinguished St. Peter's Basilica towering over the city in every frame.
The overwhelming charm of the city is further enhanced by its captivating streets where glitzy piazzas rub shoulders with dramatic fountains. The mind wanders to believe in the popular saying – one way or the other; Rome will romance you, amaze you and leave you yearning for more.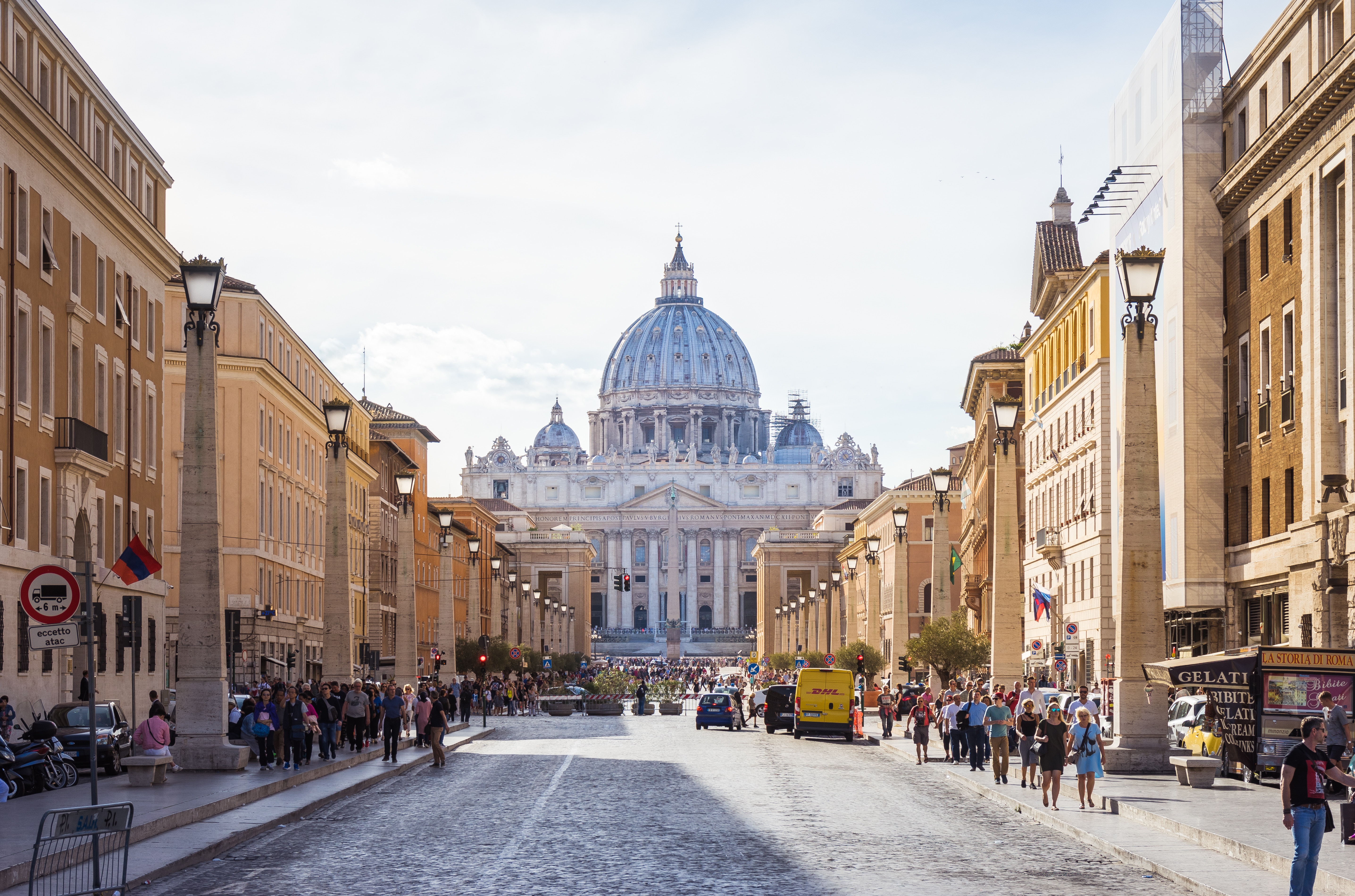 Rome has inspired top artists to create beyond their creative confines for long. And they have responded splendidly for centuries- their priceless treasures adorn the outstanding city museums and esthetic churches in the form of magnificent sculptures by Michelangelo, mosaics and frescoes by Raphael, and paintings by Caravaggio.
A Roman experience on Italy tours is not just about appreciating art and history; but also about living a life filled with pleasure and luxury. Famous as dolce-vita, it embodies idling around quaint cobbled streets, spending hours at a roadside café, and watching people and life as it moves at its own breezy pace in the pretty city. Rome is rightfully known to be the most eminent of Italy places to visit.
The icing on the Italian cake is the evening when everybody makes a dash to the swanky pubs and cafes for a social drink and snacks. The buzz in the air is intensely infectious; transforming even the most stubborn of introverts into cheerful party animals.
Like every Italian city worth its dolce vita, Rome too prides itself on its feasting heritage. You can choose from a number of fine dine places with romantic alfresco settings or make a beeline for what the locals do every evening- head a to a lively pizzeria or a neighbourhood trattoria for crispy heavenly pizzas, unpretentious yet authentic pasta and a glass of fantastic Italian white wine from nearby Frascati.
Best Things To Do In
Rome
Milan
The financial powerhouse of Italy, present day Milan is a fast-paced cosmopolitan city with a rich heritage on both sides of the Renaissance and the 21st century. The thriving metropolis is a hub of the world's fashion industry and that creativity shows everywhere around the city. Like the character of the city, tourism in Milan is frequently about enjoying opulent pleasures like shopping, opera, nightlife and of course, football.
The rapid growth of Milan as a crucial business center of Europe has ensued mushrooming of prosaic office and shiny retail spaces, which at first glance make you wonder if you made the right decision in exploring Milan as part of Italy tours. Maybe another few days in Naples or Rome would have been more worthy?
Don't let the initial mirage dampen your spirits; like every classic Italian city, Milan also has its wealth of architectural wonders and arty masterpieces by some of the biggest names like Leonardo da Vinci. Prominent among Milan's historical wonders and places to visit in Italy are:
Duomo di Milano, perhaps the grandest gothic cathedral in the world.
La Scala, one of the best opera houses on the planet.
Galleria Vittorio Emanuele, the glamorous arcaded shopping mall, in operations since 1867.
Castello Sforzesco, a grand medieval castle.
Santa Maria delle Grazie Basilica, home to The Last Supper, Leonardo da Vinci's legendary painting.
Unlike other Italian cities, Milan is more edgy and professional due to its significance as the fashion capital of the world and ensuing manufacturing and trading clusters. Tourists on their Italy vacations maybe the only ones who appear relaxed in this metropolis. Nevertheless, with an established history in theatre, music, literature, sport, art and fashion, and the Italian flair to proudly preserve and exhibit them, you'll never have a boring day in the city.
Milan is the birthplace of Italian cuisine, yet it has never really rested on those laurels. You'll find a luxurious fusion of their native cuisine with Mediterranean herbs and spices, using French and other European cooking methods. Lately, dim sums and sushi have also found an appreciative audience in Milan's gourmet circles. Milan is also home to the most number of Michelin star restaurants in Italy. Don't miss out on some local specialties while in the city on your Italy tour packages.
Best Things To Do In
Milan
Day Trip to the Leaning Tower of Pisa
The freestanding bell tower is recognized the world over for its slant. An impressive yet peculiar structure, tourists from world over are eager to visit the place and click a few memories in those iconic push-the-tower poses.
The tower tilts 1 mm every year since construction, and is currently about 4.50 meters leaned from where it should ideally be. A climb of 300 steps takes you to the top of the tower for more spectacular views around.
La Scala Opera House and Museum
Whether you fancy opera or are indifferent to it, a tour to the charming La Scala makes for a beautiful experience in Milan. The world-famous opera theater has played host to illustrious singers over the course of its rich two centuries history. The tour takes you inside the beautiful 18th century auditorium where you can also view the stage and pit orchestra.
The La Scala museum is an ambitious collection of paintings, musical instruments of great Italian composers and portraits of maestros like Verdi and Toscanini. La Scala is extremely popular among Italy tours holidaymakers, so ask your guide to book well in advance.
The iconic red-brick castle was designed by the brilliant polymath Da Vinci during the Renaissance period. The Castello now houses 7 museums that regularly bring together captivating pieces of Milan's culture and history, including Michelangelo's last work, the Rondanini Pietà.
A visit to the Galleria Vittorio Emanuele, the oldest shopping mall still standing in the world is incomplete for a shopaholic if you've not planned a visit to the Golden Rectangle- four streets of pure fashion where the best of haute couture like Armani, Prada, Versace and Roberto Cavalli welcome you with open arms. An indulgent experience beyond words, do plan a visit to the beautiful places to see in Italy to experience the lifestyle of the rich, celebrated and famous.
Duomo di Milano, Milan's magnificent Gothic cathedral occupies the most central location in the city. While construction began in 1385, final touches were applied as late as 1965- a good 6 centuries later! Do plan a visit to the imposing church for its beautifully sculpted statues and spires- it has more statues than any other building in the world- 3159. The interiors of the cathedral are also embellished with excellent art masterpieces like the Renaissance marble altar and the Trivulzio Candelabrum.
Florence
The incredible Florence! Pope Boniface VIII said in 1300 that Aristotle was wrong; the universe was made out of five elements, not four: Earth, Air, Fire, Water, and Florentines.
Florence is the place where Michelangelo began work on the iconic La Gioconda in 1503. The painting is now more commonly known as Mona Lisa, and is emphatically the most recognized work of art around the planet.
It was also Florence where Brunelleschi and Alberti invented both Renaissance and Neoclassical architecture- the style around which every major European city - London, Rome, Barcelona, Paris, etc. is built.
And these are just a few droplets in the mammoth contribution of Florence to modern world.
Contemporary Florence, the crown of Italy tourism, is an enchanting place where extraordinary art and architecture await you at every bend of the city. The city is a literal library of heritage structures like gorgeous frescoed churches, marble basilicas and world class art museums, all enveloped by welcoming cobbled streets that delight the senses. Not surprisingly, the entire Florence city center is an UNESCO world heritage site.
Italy's fashion industry too has its roots here, and homegrown designers like Gucci and Ferragamo made it big after starting here. The tradition continues with specialist boutiques running parallel to family run workshops in the quaint medieval backstreets. Bargains are usually unheard of, but you can find alluring deals at many of the boutiques in shopping streets such as the Via Tornabuoni, and the Via Maggio.
Florence is filled with churches, art galleries and museums and these places are stuffed with some of the brilliant, revolutionary art creations in the world by legends like Michelangelo, Verrochio, Desiderio da Settignano, and Donatello.
Florentines are fiercely proud of their culinary heritage. The city is surrounded by wine-rich hills; and drinking and eating well is a custom religiously followed by every Florentine. Traditional local foods that demand your attention include ribollita (bean, bread and veg soup), and a tripe panino, served in a trattoria that has not changed since 1915!
Although small in size, Florence remains among the best places in Italy in every lifestyle traveller's list. A visit to Florence will definitely be a hedonistic delight if art, culture, and food gratify you. This place is so beautiful and infused with history that you can easily spend a day in the historic center of Florence and yet yearn for more. Perhaps Game of Thrones and Dan Brown have a part to play in our expectations!
Best Things To Do In
Florence
Venice
Variously described as the City of Love or the City of Canals, Venice is surreal!
The city with no roads is absolutely different from any place you have ever lived or been to. Don't believe me; try this- where else in the world can you imagine the busiest thoroughfare named The Grand Canal, and aptly so!
The riveting city of Venice is actually a collection of about 118 islands, separated by a network of canals and united by a series of bridges. Imagine the architecture brilliance of Italian prodigies that they could dream of and build such a fantastical place.
The canals of Venice are lined with buildings and gothic palaces and even a cursory glance can reveal that these are standing tall since the beginning of time. Surprisingly, the city has virtually remained unchanged for the better part of 600 years. Of course, you can find glaring signs of decay, but that is hardly unexpected in the romantic city of 250,000, where 30 million Italy tours visitors make a beeline every year to ride the gondolas and admire the astonishing renaissance architecture.
The best way to experience Venice is by getting lost in it! Explore our Venice Travel Guide to get a peek into the places to see in Italy and other top experiences in Venice. There's so much culture peppered around the city that you'll be doing a criminal disfavour to you by only following this guide.
The narrow backstreets of Venice are cluttered with eye-popping art such as a small church built out of priceless marble, another one with a Veronese's painting, and casual, crowded bistros that serve sumptuous spreads of traditional Italian Tapas- Cicheti.
If getting lost in an alien city scares you, let me comfort you with the wisdom that it's effortlessly easy to find your way back to the Grand Canal or St. Mark's Square- the two icons you will frequently hear and see during your stay.
Venice is also famous for its bizarre but influential fashion sense that is now quickly lapped up by Europe. In fact, platform shoes were invented and popularized here before they took over the world like a storm. This eccentric creative streak of Venetian artisans manifests vibrantly in many forms- custom made red-carpet shoes, experimental mirrors and eye glasses that you can never ever imagine could exist and imitation jewelry with glass stones that shine brighter than precious stones.
Try to find time to explore Venice's small artisans and buy mementoes of your Italy vacations for your family, as this small gesture will go a long way in preserving the traditional craftsmanship of Venice.
Best Things To Do In
Venice
Where to Stay in Italy
I recommend booking your accommodation in advance, especially if you looking to travel during the peak season.
You will be spoilt for choice - Italy has everything from city hotels, hostels, B&Bs, villas and apartments. Think about your travel companions, budget and the experience you are looking for, while deciding on accommodation type.
In Rome, whether you are a first-timer family, a group of friends looking for nightlife and shopping or a solo traveller, choose to stay at an area in Rome best suited for you.
A few pointers while choosing a suitable place to stay in Italy:
If staying in a city, try to take a place that is on walking distance from major attractions- walking there will open you to more sights and smells of the city than any other experience. Plus it will save you on exorbitant taxi fee. If the city is particularly big, like Milan, make it a point to find a place that is no more than 4-5 kms. The amount you save thus can be utilized on taxis and other transportation.
Go for a farm stay if you are besotted with the country side. You can explore the option of renting a car for exploring the scenic country side of Italy.
B&Bs or apartments make a lot of sense if you are traveling with a big family or group. Not only will it be cost-effective, you can save more by cooking your breakfast and stuffing yourself before venturing to discover the city. Of course, if you are arriving with fat pockets, you can simply skip this part.
Room sizes across Europe are measured in mm! What you will call small or medium in India, may well be the largest and priciest one there, so keep your expectations in check and aim to find a clean and comfortable place rather than huge.
Use google maps to measure exact walking or driving distance from the nearest monument or airport or train station. That will help you sort the best from the available lot.