Must Visit Places in Singapore
The Bicentennial Experience
Singapore Zoo
Singapore Botanic Gardens
Jurong Bird Park
Singapore River Safari
Chinatown
Sentosa Island and Universal Studios
Singapore Night Safari
Clarke Quay
Singapore has determinedly transformed itself into a tourism paradise, with a wide range of attractions and restaurants that appeal to tourists of every age and budget. Here are our top recommendations:
1. The Bicentennial Experience
It was in 1819 that Sir Stamford Raffles landed in Singapore and thus began the transformation of Singapore from a small fishing village into the magnificent metropolis that it is now. The city nation is commemorating that occasion with the Singapore Bicentennial delving into the nation-city's rich 700-year past, and the founding of modern Singapore 200 years ago.
The jewel in the crown of Singapore bicentennial celebrations shall be the multimedia sensory experience - From Singapore to Singaporean: The Bicentennial Experience at the Fort Canning Center from June 1- Sept 15, 2019.
The one-of-a-kind showpiece event is set to transport you back in time to behold key moments in Singapore's transformation from as far back as 1299. It's a Free Event but you need to book your tickets in advance. Such a monumental event happens once in a lifetime, heck not just lifetime, but once in many generations' timeline!
You won't like me to repeat the obvious: Book The Bicentennial Experience today before it goes away forever! The tickets for the next month are released on the 7th of previous month, so if you plan to visit Singapore in August, book your tickets from July 7 onwards. The tickets are going fast, be the Quick Gun Murugan before another one does!
2. Singapore Zoo
Surprised by a zoo right at top of our suggestion? Singapore Zoo is different. Voted the 5th best zoo in the world, the Singapore zoo captivates you with its impressive standards of caring for the captive animals. The zoo follows an 'Open zoo Policy,' wherein the animals are never caged and are allowed to live in their natural habitats. Citizens of the animal kingdom you can expect to see there include Cheetah, Rhino, Zebra, Meerkats, Leopard, Giraffe, Iguana, Gila Monster, Komodo Dragon, Orangutan, Elephants and even Penguins.
If you are in the mood for some creepy fun, grab a panther and click a photo while it tries to squeeze your body for his lunch! Costs SGD 10.
There's lots more that Singapore offers for kids and we have thoughtfully captured the top 5 family-friendly things to do in Singapore.
3. Singapore Botanic Gardens
Singapore's first UNESCO World Heritage site, the Botanic Gardens is a living, breathing proof of the government's City in a Garden initiative. Spread over an area of 60 acres, the expansive space is as much a treasure trove for outdoor enthusiasts as it is for horticulturists and botanical researchers.
Located mere meters away from the prime shopping destination of Orchard Road, Singapore Botanic Gardens is most famous for the National Orchid Garden that hosts a colossal 60,000 varieties of Orchid and other plants. Jacob Ballas Children's Garden is another endearing spot where kids can play and learn about plant life. There are a number of restaurants within the garden so if you're looking for a break from the city buzz, plan a picnic here. Or simply reach there in the morning and join the crowd of joggers, walkers and early risers who are out there to have a good start to the day.
4. Jurong Bird Park
Asia's largest bird paradise, the Jurong Bird Park has almost every living species that will impress even the most au fait bird lover. With 5000 birds, you'll be spoilt for choice as you sight rare birds like the crested guinea fowl, iridescent starling and turaco in their natural habitat, perhaps in their feeding sessions or even while taking a siesta!
The indisputable star attraction at the Jurong bird Park is the Waterfall Aviary – a walk-in aviary that is home to more than 600 birds and a 30-metre-high waterfall. The Penguin Coast is another unmissable attraction with many species of these endearing flightless birds. You can even feed penguins and other feathered friends at selected locations. Your kids will love the exciting bird shows where they try to impress you by their exciting show-stopping antics. Top-off your trip with opulent Asian buffet lunch while the gifted parrots keep you in good humour.
5. Singapore River Safari
Think of the River Safari as an aquarium and a river-themed zoo where you can bump into monkeys, manatees, pandas and the piranhas as they flock in and around the waters. The river safari is the latest in Singapore's quest to develop sustainable and educative wildlife parks. Over 6000 animals are accommodated in various zones that reproduce the river habitats from across the world, from the Yangtze to the Amazon.
The showstopper undoubtedly is the Giant Panda park where giant Pandas Jia Jia and Kai Kai can be found clowning around with the other superstar, the groovy Singapore Red panda couple! Amazon River Quest is another fascinating, not-to-be-missed experience as it takes you deep into Amazonian rainforests where you can meet some of the world's incredible wildlife, like jaguars, wolves and manatees in the Amazon Flooded Forest's massive aquarium.
Expert advice: Invest in the ParkHopper Plus, a special multi park package that combines visits to the Singapore Zoo, Jurong Bird Park, Night Safari and Singapore River Safari. Your kids will thank you for it for long!
6. Chinatown
Singapore's Chinatown is the epitome of why Singapore is the original melting pot of cultures, religions and ethnicities. This Chinatown is like none you would've encountered across many other global cities. It's livelier, it's hipper, it's cheaper, and it's prettier!
A picture postcard of cultural diversity, Chinatown is a prodigious acknowledgment of Singapore's multi-ethnic cultural practices, religions and breath-taking architecture. It happens to be the only Chinatown in the world that houses a Buddhist temple, a mosque and a Hindu temple along a single street.
Everywhere in the world, Chinatown is known for its diverse selection of sumptuous and cheap food in abundance, and Singapore's Chinatown is no exception to that rule. In fact, it might be the only one that offers such a delectable range of cuisine- from genuinely traditional to contemporary fusion- to sate your appetite. Choose your poison from the profusion of hawkers or Michelin star stalls- you'll be spoilt for choices in Chinatown!
With its proximity to tourist hotspots, and some of the voguish neighbourhoods in Singapore, Chinatown will tantalize you to spend the entire day here.
7. Sentosa Island and Universal Studios
Easily the best thing to do in Singapore- especially for kids and the young-at-hearts, Universal Studios is 20 hectares of unadulterated fun.
That's about 25 football fields, so plan your trip well in advance. It might not be possible to visit all the 7 thematic zones, but choosing the best rides and themes before you go can make up for what you may miss. Here are the best Universal Studios rides that we have chosen after an all-embracing research and discussions with our guests:
Jurassic Park Rapids Adventure (Kids and Adults)
TRANSFORMERS The Ride (Young adults)
Battlestar Galactica: HUMAN vs. CYLON (Kids and Adults)
Amber Rock Climb (Kids and Adults)
Sesame Street Spaghetti Space Chase in New York (Little Kids)
Puss In Boots' Giant Journey in Far Far Away (Little Kids)
Sesame Street 'When I Grow Up' in Pantages Theater (Movie for kids)
Sesame Street 'When I Grow Up' in Pantages Theater (Movie for kids)
Madagascar Boogie in Madagascar (Movie for kids)
Your kids can also meet a number of their favourite characters while strolling around. There are Meet-and-Greet timing boards at practically every intersection. Keep a watch for timings to meet The Minions, The Sesame Street Gang, The Transformers, The Madagascar characters and the puppet hero, Pinocchio.
8. Singapore Night Safari
As dusk falls, embark on a Night Safari adventure and watch as 2,500 nocturnal creatures begin their nightly rituals of grazing, hunting or simply cavorting in the open space. You can choose to explore the park on foot on its 4 walking trails or take an exciting 35 minutes tram ride with live commentary that takes you through 7 geographical zones of the world, with animals from about 130 species, including many indigenous ones who are not found anywhere else in the world- endangered Asian elephant, Malayan tapir and Malayan tiger.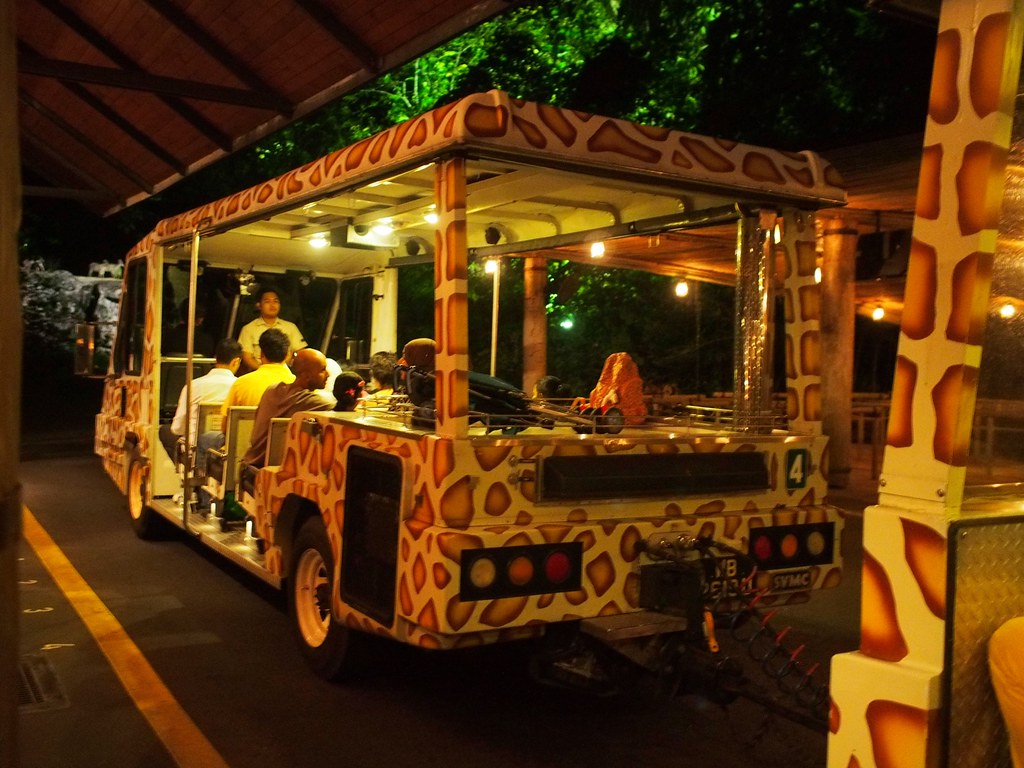 Nights in Singapore are younger than the day, and the shimmering city entices you to become an insomniac for the period you're there on your Singapore travel. Discover our top Singapore experiences that will brighten up your night.
9. Clarke Quay
Drink and Dance the night away! As the day gives way to darkness, the Lion city switches on all its LEDs and the city glitters like a brilliant star in the galaxy. Singapore's pulsating nightlife spot, Clarke Quay transforms into the center of the party universe, with tourists jostling for space with locals along its swarm of riverside bars and restaurants.
You can pick a spot that fits in with your kind of music- EDM, Jazz, hip-hop, or even beach club; the jaunty location has something for everyone. Some of the most frequented clubs here are:
Attica
Zouk
Altimate at 1-Altitude
Altimate at 1-Altitude
Tang Music Box (for Karaoke)
Tang Music Box (for Karaoke)
Cuba Libre (Latino paradiso)
While you are here, you can also choose to spend a few days in the nearby tourist destinations like Indonesia, Philippines, Malaysia, Vietnam, Cambodia or even Thailand. All these countries are barely a few hours distance from Singapore, thus making a weekend getaway hugely enticing. Here's a quick prologue on planning a weekend getaway from Singapore.
While you are here, you can also choose to spend a few days in the nearby tourist destinations like Indonesia, Philippines, Malaysia, Vietnam, Cambodia or even Thailand. All these countries are barely a few hours distance from Singapore, thus making a weekend getaway hugely enticing. Here's a quick prologue on planning a weekend getaway from Singapore.
A second visit is already on the mind as you unwillingly board the flight back home.