Must Visit Places in Indonesia
Bali
Bali is the closest you can conjure up as utopia. Come to think about it- the blossoming rice terraces, spectacular hillside temples, dramatic volcano sites, ancient monuments, extensive coastlines with beautiful beaches and a captivating vibe of fun!
Now add all this to the phenomenal spiritual and artistic undertones, and you have the island of God- there truly is no other place like the unbelievable Bali.
Bali is an impressive destination for travellers of every genre - family, solo, friends, backpackers, honeymooning couples, you name it and you'll find them here.
The biggest draw here is that Bali offers not just the mindboggling range of activities like surfing, diving, cultural performances, historical attractions, archaeological wonders et al but the equally fabulous Bali accommodation options at prices that are much lower than similar resorts at any other tourist destination in the world. No wonder with this very high value-for-money-ratio for a broad spectrum of visitors, Bali attracts more travellers than most of them!
Despite the many tourist attractions, the true essence of Bali is the Balinese people- generous, smiling, and genuinely hospitable people who revel in welcoming you and are exceedingly keen to embrace you in their rituals and celebrations. In my long career as a travel blogger, I'm yet to meet a traveller to Bali who is not eager to travel there again- in fact, most of the Bali first-timers can be seen promoting Bali as if they are paid by the Indonesian Government for it 😀!
Major tourist areas of Bali
While Kuta tops the list of places to visit in Bali for miles of golden sand beaches, surfing, and a vibrant nightlife, Ubud is more celebrated for its artistic heritage and traditional Balinese dances.
Here is a list of top Bali destinations:
Kuta - Beaches, beaches and some more beaches! You can surf to your heart's content, take a nap and set out to absorb the vibrant nightlife of the party capital of Bali.
Ubud - It's the center of Balinese art and dance, with several temples and museums along with art and craft galleries cum shops. There's also the Bali Monkey Forest here that kids will love to pay a quick visit to.
Nusa Dua - Golden sand beaches and high-end resorts; arguably the toniest area of Bali. You can enjoy water sports, play golf or relax in a luxury spa.
Seminyak – The lively Seminyak is fancied by travellers for its swanky restaurants, clubs and a cornucopia of designer boutiques and galleries. And of course, fabulous sandy beaches.
Lovina - Ideal for family vacations in Bali, the gorgeous black volcanic sand beaches and coral reefs is one of the more quiet areas in Bali. Your kids will love dolphin watching here.
Kintamani - You can choose to visit this mountainous area that houses the active volcano Mount Batur, inescapable mountain vistas, and the largest lake in Bali.
While you can choose to indulge in any number of engrossing activities in Bali, do read our favourite list of 5 best things to do in Bali.
Best Things To Do In
Bali
Bali is known for its beaches, temples, culture ethics, nightlife and its delectable cuisine. Here's our choice of most significant things to do in Bali:
Pray at Pura Luhur Ulu Watu

The popular temple has wide-ranging picturesque sights, sunset dance performances and monkeys in abundance.


Visit Padang Padang Beach

Crystal white sands and best surfer watching destination.
Book Nusa Dua Theatre

DO NOT miss the Devdan show – a fascinating fusion of choreography and discipline of melodic Balinese dance, Java's puppet show, Sumatra's Saman dance and Papua's body painting.
Stay at Seminyak

This delightful area is home to beach shacks where you can hardly differentiate between the surfing waves and the sound of clinking ice in your cocktails.
Enjoy Balinese cuisine in Denpasar

Nowhere else is exceptional Balinese and Indonesian food served than here. The bonus is the simple backdrops of local cafes here.
For those who think shopping is destiny (like me 😀), Bali offers an excellent variety of handicrafts, art, designer fashion and a beguiling range of homewares that will serve as a charming reminder in your home to visit Bali again. Soon.
Sumatra
Sumatra is blessed with the very best and wickedest of nature. The sixth largest island in the world is a parcel of exceptional beauty where lush jungles and idyllic beaches are fortified with volcano eruptions, earthquakes, tsunamis, and landslides.
The natural disasters though are never a deterrent to travellers who are eager to explore the prodigious beauty of the island and indulge in distinctive adventurous activities.
Sumatra is so good; it must be seen. Here's a list of highlights you can expect to discover while in Sumatra:
The Orangutan sanctuary in Bukit Lawang. Not just our nearest cousins, you can also expect to come across monkeys, rhinos, Sumatran tigers, and elephants in the wild.
Lounge around in a charming waterside resort on the shores of one of Southeast Asia's largest lakes - Danau Toba aka Lake Toba. Don't miss to relish the distinctive Padang cuisine here.


Go for world class diving in Pulau Weh and surfing in the remote and idyllic Mentawai islands.
Watch dolphins at Kiluan, Lampung while appreciating the magnificent rainforest fauna.


Most travellers rush to Bukit Lawang and Danau Toba for its easy approach, but if you are looking for an off beaten and experiential trip to Indonesia, take my suggestion and choose to explore a few remote islands to absorb the true grandeur of nature that this tropical paradise is.
Yogyakarta
If the kaleidoscopic Indonesia is represented in a single city, it has to be Yogyakarta- the soul of Indonesia. Capital of the semi-autonomous region of Daerah Istimewa Yogyakarta, the city is most famous for the temples of Borobudur and Prambanan.
Yogyakarta is cherished for preserving Indonesian artistic and philosophic heritage in its purest form. The citadel of batik and gamelan loves its roots and is still ruled by a Sultan whose palace, locally called Kraton, remains a vibrant hub of all traditional arts, crafts and the rich archaeological heritage of Yogyakarta.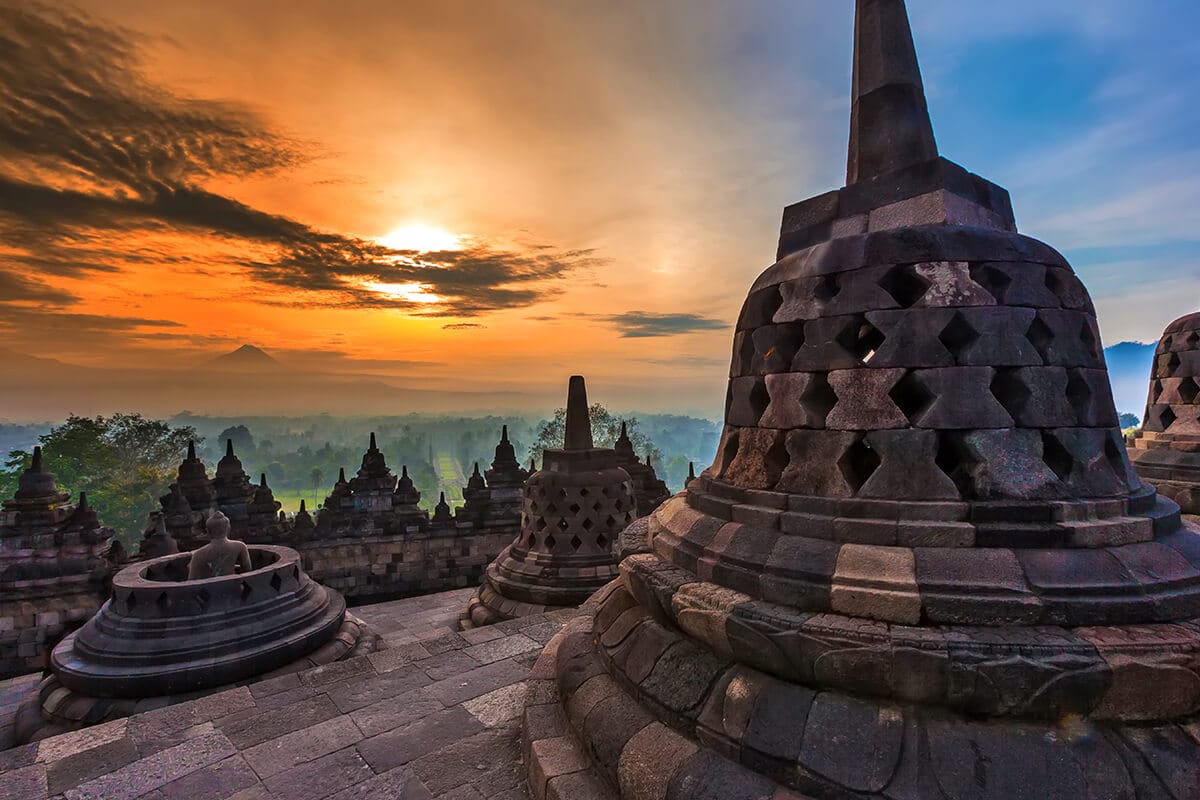 Yet, Yogyakarta (also called Jogjakarta or simply Jogya) is much more than traditions. It's a dynamic metropolis with every indicator of modernity in abundance- malls, fast food chains, terrible traffic and youngsters imitating global pop icons in dresses and demeanour. No wonder Yogyakarta has become Indonesia's liveliest city that travellers are keen to discover more of!
Yogyakarta lies in the most seismically active zone of Indonesia and receives more than a fair share of earthquakes and volcanic eruptions. While the disaster management team there is super effective, the volcanic eruption site of 2010 has also become a tourist getaway for exploring damages and collecting sands-rocks from there.
Best Things To See In
Yogyakarta
Bali is known for its beaches, temples, culture ethics, nightlife and its delectable cuisine. Here's our choice of most significant things to do in Bali:
Borobudur Temple

The 9th century Buddhist temple is considered the largest Buddhist monument on Earth and rivals the Angkor Wat in its magnificence. Particularly famous are the sensational sunrise views from the top of the UNESCO-world heritage site, Borobudur.


Prambanan Temple

Another UNESCO-world heritage site, this stunning complex of Hindu Temples is celebrated for its intricate decoration and heights of the 3 biggest temples. The 3 temples are dedicated to Shiva, Vishnu and Brahma, the holy trinity of Hinduism. Don't miss the spectacular sunset views from here.


Kraton Yogyakarta

An excellent example of Javanese architecture, Kraton Palace is where the Sultan of Yogyakarta and his family still live. The palace opens to tourists daily from 8.30 AM to 1 PM and houses many attractions for you to learn about their heritage. Prominent among them are:
1. Sultan's Carriage Museum
2. Taman Sari
3. Masjid Gede Kauman
4. Taman Pintar
Museum Dirgantara

The aircraft museum holds several antique aircraft from WWII and Cold War eras. A must-see for experiential travellers.
Museum Batik

Understand the ancient art of Batik decoration here, before trying your hands at making your own batik souvenirs at the batik workshop.
Jogja Gallery

Admire avant-garde art at this modern art gallery in Yogyakarta.
Mount Merapi

The cone-shaped Mount Merapi is the most active volcano in Indonesia and is surrounded by rainforest and rice paddies. A reliable Willy's Jeep takes you there, making the journey even more romantic and impressive.


Malioboro

The famous shopping street is a bargain hunter's paradise! Think of it as Janpath in Delhi or Fashion Street in Mumbai- the perfect place to buy souvenirs for family and friends back home. The place is also home to street artists from across Indonesia, so expect to watch a scintillating puppet performance or rock shows.
If you're culturally inclined, I'll strongly recommend watching the Ramayana ballet at Prambanan and enjoying one of the best Indonesian cultural performances.
Komodo
Part of the outstanding Indonesian wonderland Nusa Tenggara, Komodo completes the triumvirate - in the company of Rinca and Padar - of the islands that form the 1817 Km of the country's greatest natural treasure - The Komodo National Park.
The largest island here, Komodo is blessed with crystal clear waters that offer gripping underwater adventures. Yet, it is most recognized around the world for Ora, the fabled Komodo dragon. The world's largest living lizard can reach 3 metres or more in length and over 70kg in weight.
But the Komodo National Park is more than just dragons. It is home to many other significant terrestrial species such as the orange-footed scrub fowl, an endemic rat, and the Timor deer.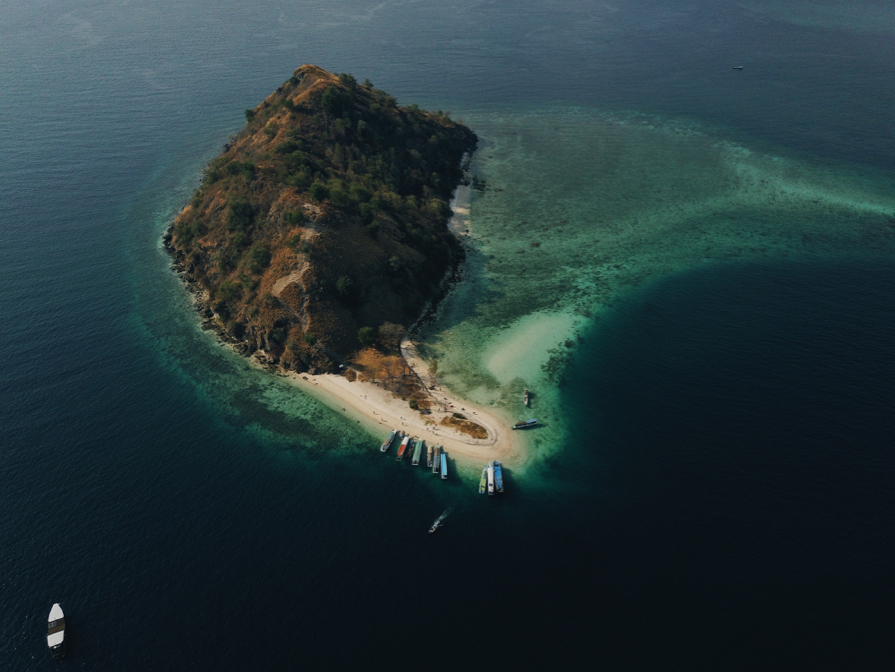 What is more, the Park includes one of the richest marine environments including coral reefs, mangroves, seagrass beds, seamounts, and semi-enclosed bays. These habitats shelter more than a thousand species of fish, some 260 species of reef-building coral, and 70 species of sponges.
Dugong, sharks, manta rays, at least 14 species of whales, dolphins, and sea turtles also make Komodo National Park their home.
The neighbouring town of Labuanbajo is also coming into its own and fast developing as the next big eco-travel hotspot of Indonesia. Labuanbajo lies on the Flores Island where the languid 670 km river Hwy runs along the paddy fields which has helped open up whole new tourist vistas.
The tropical El Dorado of Flores remained hidden in the shadows of big brother Bali, but the solidly improving infrastructure and refining sensitivities of modern travellers trailing smouldering volcanoes, impressive rice terraces, hot springs, uncharted white sand beaches, and exotic cultures is helping the gorgeous island bloom like never before.
I strongly recommend you include Flores in your itinerary when you visit Komodo.
Lombok
Lombok is the insider's secret to Bali. While Bali is swamped with international travellers, local Indonesians are turning more towards Lombok for its clean beaches, green trekking trails, lush forests, mesmerizing waterfalls, backpackers' friendly party places, and Gunung Rinjani- Indonesia's second largest volcano.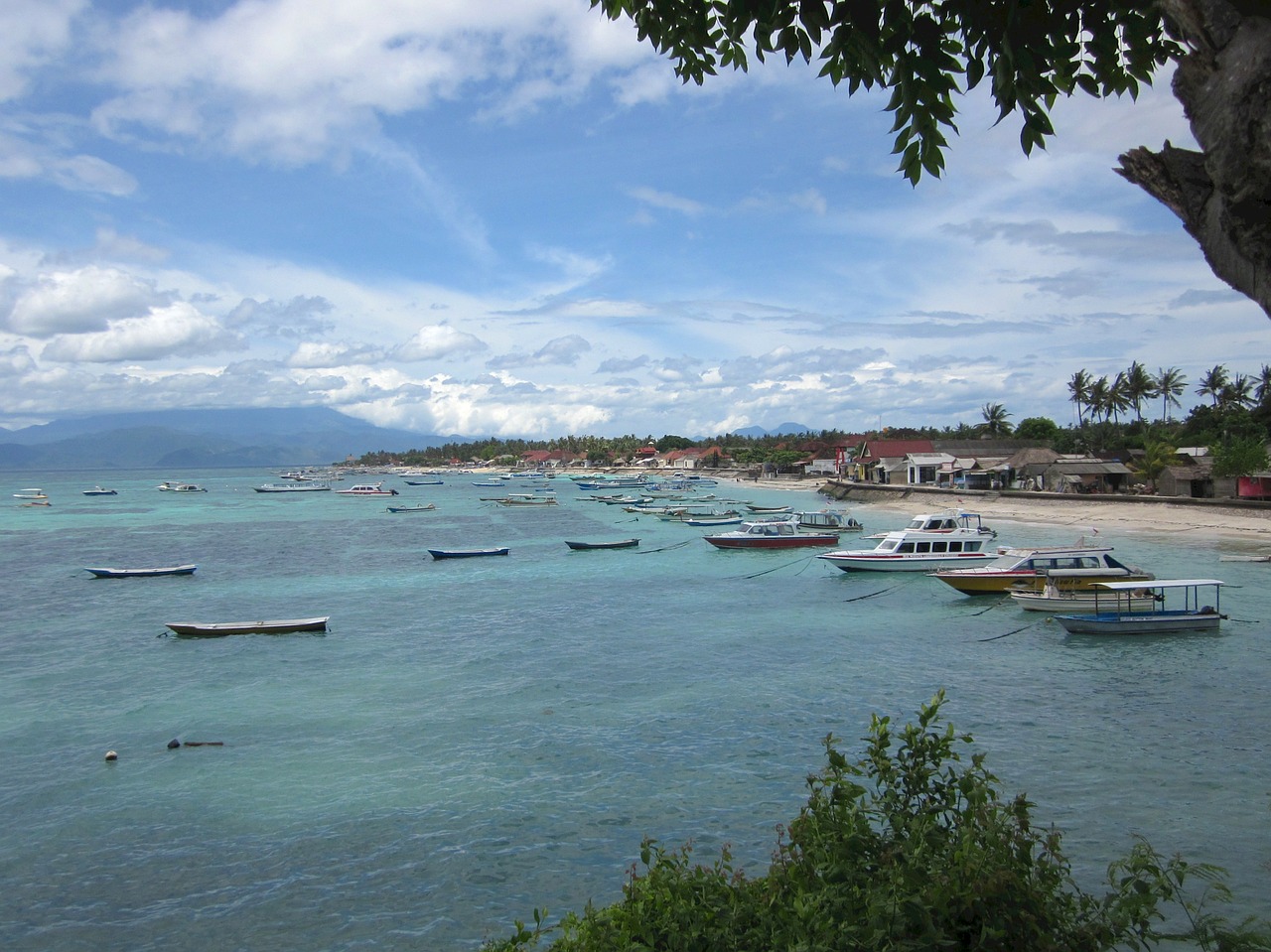 Promoted as Unspoiled Bali, Lombok is not too far from the moniker it proudly wears. The tropical paradise retains the traditional way of life of a delightful village that is reluctant to join the big league. The natural landscapes are as spectacular as the rest of Indonesia but appear far more alluring when you don't have to jostle around with crowds of tourists with cameras in tow. Trust me; you can ramble around here without coming across a single Instagram fan! Travellers come to Lombok to unwind in the true sense of the term.
Lombok is inexpensive as compared to Bali. Plus, it's safe, gorgeous and receives far less tourist crowd than Bali. Hence, it's fast becoming a preferred destination of honeymooners from around the world, especially India and Australia. While you are open to visit beaches and natural splendours, I particularly advise you to take advantage of the roads of Lombok. No, they are not the zip-zap-zoom kind of highways but mostly rickety roads yet the romanticism in hiring a motorbike with your partner or riding a bicycle or a horse cart will create charming memories you won't ever forget.
Best Things To Do In
Lombok
Visit Kuta, Lombok

Not to be confused with Kuta, Bali, this place is a stark memento of old times when beaches appeared as a part of the town and did not appeared like a cacophonic market. Watching the sun as it sets away in the horizon is a surreal experience in Kuta. You can even decide to stay here and explore other parts of Lombok.


Selong Belanak beach

A gorgeous beach that is made more special by the efforts of locals who clean it twice a day to ensure it holds on to its charm of an immaculate place to visit with your family.
Hike Mount Rinjani

A trek to the top of the Indonesia's second largest volcano is exhausting but the journey through spectacular forests and the dramatic views of the crater from the top are worth your every single step.


Gili Islands

The most popular destination when you travel to Lombok, the Gili Islands are fast becoming the mecca of travellers looking for a relaxed day or 2 in unpolluted environs. All the 3 Gili islands do not allow any kind of automobile traffic on its roads. So, you can focus all your energies on what all other travellers do here- PARTY!
Surfing, Snorkelling and Scuba Diving

There are several good sites in Lombok where you can satiate your craving for adventures in the seas.
Lombok is everything you seek in a tropical paradise without the associated crowd. It's more of a village than a small town, so visit Lombok to appreciate the gorgeous natural landscapes. There are no swanky malls or ritzy fast food chains here in Lombok, so be prepared to discover a whole new world and an entirely new side to you when you are in Lombok.
Gili
While a Gili literally means a small island that is an offshoot of a bigger island, the famous Gili Islands is a reference to the archipelago of three islands just off the northwest coast of Lombok that has gained massive popularity in the last few years as a distinctive tourist destination.
The fascinating archipelago is surrounded by glittering turquoise waters while individual gilis present an enthralling sight of swaying coconut palm trees. The sharp increase in tourist traffic in the last few years have seen resorts and other tourist properties open up here with an unbelievable speed.
Of the 3 islands- Gili Meno, Gili Air and Gili Trawangan - the last one is specifically favoured by tourists who are bursting with raw energy to party hard and party long. Gili Trawangan also happens to be the most cosmopolitan of the triumvirate with countless resorts, bars and upscale dining options.
At the same time, the local authorities have, very sensibly, decided to ban every kind of motor traffic on the island. So, you only have horse carts and bicycles to make your way around Gili Trawangan. Lately, electric scooters have started making an appearance, but they are still small in number. Incidentally, the automobile embargo applies to all the 3 Gilis, and has helped the islands retain their dreamy charm despite the influx of hordes of tourists out for a good time.
While Gili Trawangan or Gili T as it's more commonly called has made a reputation of a boisterous place, Gili Meno and Gili Air are comparatively less crowded and attract swooning honeymooners and urbane travellers who are more drawn to the crystal clear water and idyllic, secluded white-sand beaches. The Gili Trawangan Honeymoon Package is a big hit with new couples!
Best Things To Do In
Gili
Walking

The tiny picturesque islands invite you to explore them on foot. Don't dawdle for a moment and go discover the Gili you've made home for a day!
Diving, Snorkelling and Surfing

Well, that's the staple at a paradisiacal tropical island, isn't it?


Horseback Beach Ride

Enjoy the fun as much as the horse as he strides along the white sandy beach!


Party

Especially in Gili T! The various night bars take turns to host late night gigs that go up to 4 AM and beyond. Try to stick to branded well-known spirits and avoid the locally produced arak, no matter how exotically it is sold. It contains dangerous levels of methanol that can play havoc with your health and maybe, life.
Gili Islands fill in the cliché of a tourist who came for a day but decided to spend a month there. Still not over touristy, Gili Islands afford you the rare prospect of partying like a cosmopolitan city in a local village environment- a perfect balance of thrill and bliss!
Indonesian Cuisine
Indonesian cuisine is as diverse as the country and as delicious as anything you've devoured with relish, with a promise to try it again and blab about it to your friends at the earliest.
With more than 300 ethnic groups that call it home, Indonesia is blessed with a profusion of regional cuisines based upon indigenous culture with some foreign influences. While there are thousands of traditional recipes (5350 at last count), about 30 of these are considered iconic and defining Indonesian cuisine.
Almost all the food in Indonesia includes rice, noodles and soup dishes. Popular Indonesian dishes such as Nasi Goreng, Gado-Gado, Satay, and Soto are available everywhere and are considered national dishes.
However, the official national dishes chosen in 2018 by Indonesian Ministry of Tourism and Creative Economy are these 5 dishes that characterize the diversity of Indonesia's various culinary traditions:
1. Soto
It is a traditional Indonesian soup mainly composed of broth, meat, and vegetables. A variety of Soto recipes and variations can be found in Indonesia according to available ingredients and distinctive local taste of a region. A few worth mentioning examples are Bandung Soto, Kediri Soto, Padang Soto, Soto Mi and Soto Ayam.
2. Rendang
The Indonesian spicy meat dish originating from the Minangkabau people of Indonesia has spread across the country, and to the neighbouring Southeast Asian countries like Malaysia and Singapore. Often described as a curry, Rendang is usually not considered as such in Indonesia since it is richer and contains less liquid than is normal for Indonesian curries. Like most other foods of Indonesia, Rendang too has countless variations like Rendang Baluik, Rendang Talua, Rendang Tongkol and Rendang Runtiah.
3. Satay
Satay or Sate is meat skewers cooked over coal. Very similar in appearance to our Kebabs, it is usually served with ketupat (rice cakes) and different varieties of sauces poured all over the satay. The sauces are most often a combination of soy and peanut sauce. Numerous variants of satay are served all around Indonesia, with basic ingredients ranging from beef to chicken, offal, pork and other available meat. Vegetarian satay is also prepared in a few tourist places in Indonesia.
4. Nasi Goreng
Sometimes described as Indonesian stir-fried rice, Nasi Goreng literally means Fried Rice in Indonesian language. It is pre-cooked rice fried with pieces of meat. Nasi Goreng is cooked in many variations using veggies, chicken, beef, and seafood- basically any edible you can conjure of.
Nasi Goreng can be singled out from other Asian fried rice recipes by its aromatic, earthy and smoky flavour, owed to generous amount of caramelized sweet soy sauce called keycap and powdered shrimp paste. This results in a stronger taste and makes the combo spicier as compared to Chinese fried rice. You can find Nasi Goreng at practically every corner of Indonesia- in street carts, casual and fine-dine restaurants and even at high-end dinner parties in Jakarta.
5. Gado-Gado
Also known as Lotek, Gado-Gado is an Indonesian salad of rich mixture of vegetables that are boiled, blanched or steamed. A few variants also add hard-boiled eggs, boiled potato, fried tofu and tempeh. At some places, Gado-Gado is served along with Lontong (rice wrapped in a banana leaf), garnished with a peanut sauce dressing.
On top of these 5 ubiquitous Indonesian dishes, you will never be short of unique and appealing food in different regions of Indonesia. Bali, for example has its own distinctive cuisine that beguiles the travellers.
Here are a few famous Balinese dishes:
Lawar - Chicken dish prepared with coconut.
Bebek Betutu - Duck stuffed with spices, wrapped in banana leaves and cooked in a pit of coal.
Sate Lilit - The Balinese version of Indonesian Satay made from minced meat pressed onto lemon grass skewers is wildly popular with tourists and locals alike.
Babi Guling - A roasted pig stuffed with chilli, turmeric, garlic, and ginger for the more adventurous of foodies.
While in Indonesia, it will be criminal to stay away from the bounty of tropical fruits available. Fruits are usually eaten fresh and raw but a host of other choices are also open- Fruit Juices, Fruit Desserts such as Es Buah and Es Teler, Processed Fruits like Rujak and Kripik (crispy chips of jackfruit or banana), Fried Fruits like Pisang Goreng (fried bananas), and Preserved Fruits like Sale Pisang and Manisan Buah.
A few popular Indonesian fresh fruits are:
Mango (Mangga), Mangosteen (Manggis), Rambutan, Cempedak, Jackfruit (Nangka), Durian, Jambu Air, Langsat (Duku), Pomelo (Jeruk Bali), Carambola (Belimbing), Kedondong and Banana (Pisang).
Make your trip to Indonesia special with unforgettable experiences at every Indonesian tourist destination. I'm sure you'll love the experience.