Bhutan, also referred to often as the Last Shangrila, is a delightful country to travel to. Why should you Travel to Bhutan? What does Bhutan offer to a first time visitor? Our Series of Articles are aimed at informing the First time Traveller what to expect from your Travel to Bhutan and what should be on your list.
Unless you are travelling to Bhutan from Eastern India, your Journey into Bhutan would start from Paro.
Paro
First-time visitors to Bhutan will perhaps be told the legend of how when Guru Rinpoche, or Padmasambhava (the spiritual leader who became known in his time as a second Buddha) as he is revered, flew into Bhutan from Tibet on the back of a tigress (his consort whom he transformed into the magnificent feline), he first set foot in Paro. That was in the eighth century.
Today, 13 centuries later, Paro is what connects the world to Bhutan…or perhaps Bhutan to the world.
Paro, resting at the base of Mount Jomolhari, is a sweeping valley of rustic beauty surrounded by neat paddy fields, flanked by dramatic mountains on all sides, and topped by brilliant blue skies. At 7,300 feet, it is the site of Bhutan's only airport (also only international airport) and every traveller's first view of the country.
The valley, with its innumerable historic sites and traditional farmhouses, reveals its treasures gradually.
You cannot leave Bhutan without setting foot on this incredible heritage site. Taktsang Lhakhang or the Tiger's Nest Monastery as it is more famously known, is Bhutan's most iconic landmark and spiritual site. And the nearly four-hour grueling hike through lush, gorgeous pine forests to reach this logic-defying architectural accomplishment that clings impossibly to a sheer cliff face 900 metres above the Paro Valley will perhaps be one of the most unforgettable and exhilarating travel experiences of your life. Fluttering prayer flags guide you on your way up and once you reach the top you are rewarded with spectacular views of the valley far below.
Tiger's Nest was first built in 1692 enclosing the cave where Guru Rimpoche meditated in the 7th century for several years.
At the entrance to Paro town, an ancient wooden cantilever bridge leads you to the majestic fortress dominating the skyline. Rinchenpung Dzong (or Rinpung Dzong or Paro Dzong) which translates to 'Fortress on a Heap of Jewels' is one of the finest examples of traditional Bhutanese architecture – especially beautiful viewed at night when it is all lit up. A hike to the top of the dzong will greet you with panoramic vistas of nearby valleys.
The dzong is defined by a five-storied central tower called utse and an expansive courtyard protected by towering walls dotted with windows and embellished with splendid traditional woodwork set off by white and red paintwork.
The dzong serves as the site for both district administration offices and central monastic body. The grand courtyard hosts the vibrant and colourful annual Paro Tshechu (festival).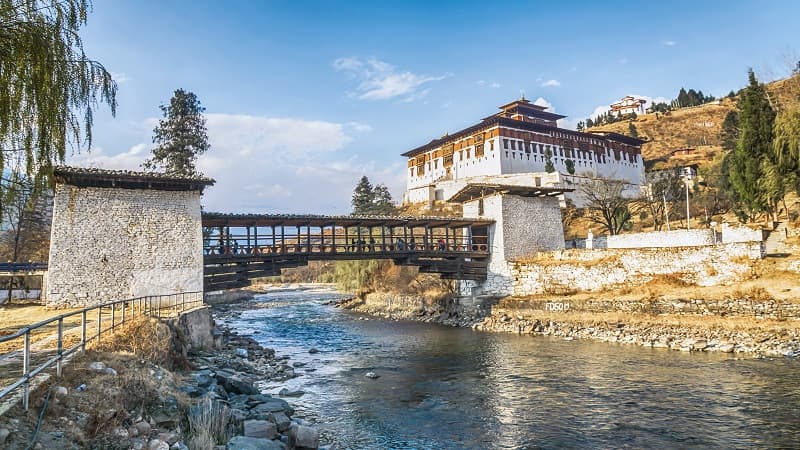 The National Museum of Bhutan is housed inside the Paro Ta Dzong, a 17th-century watchtower that was built to protect and defend the fortress from invaders. The watchtower is a circular structure with windows set in rows across its girth. Today, the Museum, a major tourist attraction, exhibits ancient Bhutanese artefacts and artwork including traditional costumes, armour, weaponry, and handcrafted implements for daily life, thangkha paintings, and Bhutan's stunning postage stamps.
Kyichu Lhakhang is considered to be one of Bhutan's most beautiful temples. It is famed for its five-metre-high statue of Guru Rinpoche and another of Kurukulla (Red Tara) holding a bow and arrow made of flowers. You will see elderly pilgrims constantly circumambulating the temple and spinning its many prayer wheels – an undeniably moving, serene sight.
If you want to enhance your Paro experience we recommend these additional activities, You may need to increase your stay in Paro to experience these.
The Namgay Artisanal Brewery, the first of its kind in Bhutan, at Dumsibu, creates beer with 100% locally sourced ingredients indigenous to Bhutan such as Bhutanese Magnum, red rice and Saaz; their brewpub offers Apple Cider and six variants of craft beer brews (you'll find bottled and tap). The result is unique Bhutanese beer that is a homage to Bhutan's distinct traditional flavours. Their lovely bistro serves multi-cuisine fare along with traditional Bhutanese delicacies
NAB is one of the few breweries in the world that hosts brewery/tap room tours. Visitors can book a tour (first come, first serve basis) to observe and learn about the brewing process from source to the final product. Saving the best for the last, NAB gives guests a complimentary tasting of all their beers! They frequently organise events too such as beer festivals or live gigs and performances, and live games.
Many of Paro's quaint and charming traditional Bhutanese farmhouses that lie scattered across the valley offer homestay experiences. Services are superb, and while the experience remains authentically Bhutanese, plenty of western amenities too are provided to make guests comfortable and at ease. You will be served wonderful home cooked meals prepared with kitchen garden-sourced ingredients…they taste even better when shared with the host family.
The traditional Bhutanese hot stone bath, known as Dotsho has been practiced in Bhutan for centuries as a medicinal and therapeutic soak. Dotsho is said to help cure a number of ailments such as joint pains and stomach troubles and acts as a marvellous relaxant. River stones are heated and placed in a tub filled with cold water from the mountains to heat the water; sometimes medicinal herbs are added to the water before it is ready for the soak – the herbs release their natural essences and properties and enhance the bathing experience. This is an experience you must not miss.
Thimphu
Thimphu, resting along the River Wang Chhu, is the picturesque national capital of Bhutan and also the country's largest town.
Although it was established as the permanent capital of Bhutan in the 1950s, and has grown over the decades into a tiny glittering metropolis of sorts, Thimphu continues to somewhat retain its small town air lending the ambience here a relaxed and friendly energy. There's of course a gamut of the finest shopping, dining, and nightlife experiences to enjoy here but a great way to truly discover and appreciate the Bhutanese way of life is to explore Thimphu's interesting streets. Be patient and you'll be rewarded with glimpses of a unique, content people who have opened their doors to the modern world but have never once forgotten their Bhutanese ethos.
The town is dominated by the majestic Trashi Chho Dzong that lies on its northern edge. The splendid dzong is a Buddhist monastery and fortress; it also houses the Secretariat, the King's headquarters, and the summer residence of the central monk body.
The National Memorial Chorten, a stupa built in 1974 to honour the third Druk Gyalpo, Jigme Dorji Wangchuck, is one of Thimphu's iconic landmarks, defined by golden bells and spires.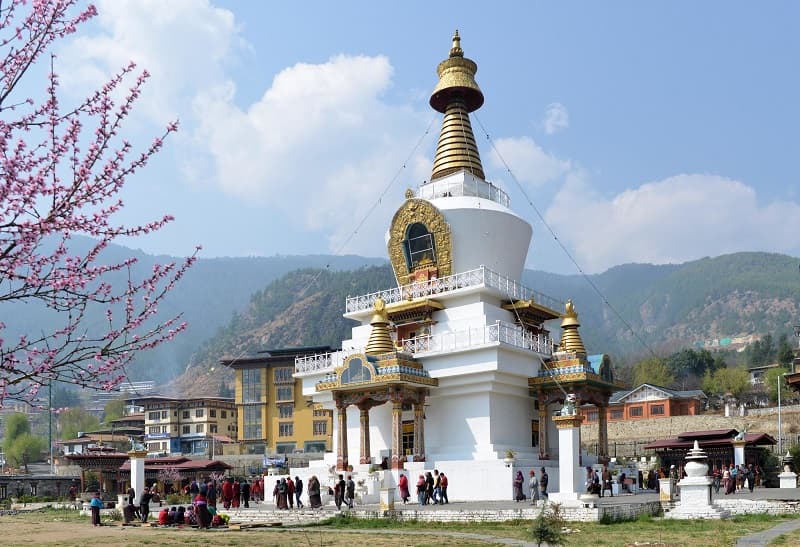 The National Folk Heritage Museum, established in 2001, gives visitors fascinating insights into traditional Bhutanese culture and lifestyle. A three-storied, 19th century traditional house houses the museum. There are artefacts from rural households, and an assorted collection of typical household objects, tools, and equipment.
One unique feature is how the activities of the museum follow a seasonal pattern, just the way it would be in a real rural home – it gives visitors new experiences depending on when they visit!
Inside the vast complex, paddy, wheat, and millet fields, a traditional water-mill with mill stones, kitchen gardens with vegetables, and even one of Bhutan's famed traditional hot stone baths recapture the rural setting and ambience of a traditional household. Native trees and plants are also grown here in an effort to preserve knowledge of indigenous natural resources.
The museum also organises regular demonstrations of rural traditions and skills, and hosts educational programs for children.
Perched on a ridge above Thimphu, the 12th-century Changangkha Lhakhang is the oldest temple in Thimphu and is one of the most popular sites for the faithful. The temple houses the central statue of Chenrizig, a manifestation of Avalokiteshvara with eleven heads and a thousand arms, and also boasts some beautiful murals inside. Spectacular views of the surrounding Thimphu valley await you at the top...best enjoyed at dawn when the temple is in quiet repose.
The lovely National Textile Museum is part of the Royal Textile Academy. Discover the beauty and diversity of the living textile arts of Bhutan. You can see the effort to promote and preserve Bhutan's rich traditions and vibrant culture in the museum's outstanding exhibits of the finest examples of woven, embroidered, and appliqued textiles. Learn about weaving techniques, local attire styles, and the various kinds of textiles made by both women and men. The museum shop has books and fine textiles. You can even observe weavers and embroiderers at work in the Royal Textile Academy within the complex.
If your stay in Thimpu is on a weekend, then Thimphu's Weekend Market (Centennial Farmers Market) is a must visit. This is where the majority of Thimphu's population and many valley dwellers converge for three days. The vibrant, colourful, bustling market, held down by the river, starts to fill up pretty fast, and before you know it you'll find yourself in a maze of fascinating stalls selling an array of items such as: fresh local produce, dried chillies, yak butter, pickles and condiments, wild honey, strips of dried fish and meat, local cheese, red rice, barley and much more. Mingle with locals, buy anything that takes your fancy or simply take photographs…for this is a rare chance to capture Bhutanese weekend life at its buzzing best.
The Handicrafts Market across the Kundeyling Baazam, an old cantilevered footbridge from the Weekend Market, sells local arts and crafts.
Strange hoofed creatures that resemble a cross between cows and goats roam within the trees within 8.4 acres of protected and carefully managed forest area in the Motithang Takin Preserve in Thimphu. The odd-looking animal is the takin and is in fact held in high esteem in Bhutan – it is the National Animal of the kingdom.
The takin is a rare type of goat-antelope whose habitat is the high altitudes of the Eastern Himalayas. The four subspecies of the takin can be found throughout Bhutan, Northeast India, Northwest Myanmar, and the Chinese section of the Himalayas. The takin's protracted nose, large head, and sturdy torso give it a distinctive look it's actually more genetically similar to sheep.
The takin seen at the Motithang Takin Preserve were once part of a small zoo but were freed from confinement and sheltered at the Preserve, where they now live and roam free. The Bhutanese government is especially attentive to the wellbeing and conservation of this gentle and peaceful animal because of its status as the national animal.
Punakha
Punakha was Bhutan's ancient capital from 1637 to 1907 and the first national assembly was hosted here in 1953, making it a place of great historical significance in Bhutan's history.
The towering 17th-century Punakha Dzong is the second oldest and second largest dzong in the country. And arguably, Bhutan's greatest and most beautiful fortress. But what is truly extraordinary is that the dzong was built without the use of nails – not even a single one! Also an unusual feature is its three docheys (courtyard); other dzongs around Bhutan normally have only two docheys.
The majestic dzong – with an utse (central tower) six stories-high –stands on a stretch of land between the Rivers Pho Chhu and Mo Chhu and the only way to reach the dzong is to cross the bazam (bridge) which was rebuilt in 2008 after the original 17th-century bridge was washed away during a flood in 1958.
The structure is built from compacted earth, stone, and wood with extravagant trimming; the interiors are beautifully embellished with carved woodwork and vividly-coloured paintings; do not miss the one-hundred pillar hall featuring exquisite murals. Apparently, most of Bhutan's national treasures are housed inside the dzong. Punakha's pride is an especially glorious sight on sunny days when sunlight dances on the water, throwing its reflection onto its white-washed walls. In 2011, the dzong served as the venue for the wedding of the fifth King of Bhutan.
If Bhutan and Buddhism conjure up visions of tranquility, sobriety, calm, and beauty; of colourful monks, immaculate monasteries, and resplendent temples, then you are quite right. Well almost. Bhutan's Chimi Lhakhang is all of that albeit with a small (or big!) difference.
Chimi Lhakhang, also known as the "Fertility Temple," was originally built in 1499 on a rotund hillock by Ngawang Choegyel, the 14th Drukpa hierarch after the grounds were blessed by the "Divine Madman", the maverick saint Drukpa Kunley, who built a chorten on the site.
Drukpa Kunley – credited with bringing Buddhism to Bhutan – broke all conventions of Buddhism. His eccentric, unorthodox ways of teaching and preaching Buddhism with song, poetry, humour, and outrageous behaviour – he was known to lead a merry lifestyle replete with wine and women – earned him the moniker "the Divine Madman". Drukpa Kunley surely shocked with his bizarre methods and mad antics but his efforts to spread enlightenment seemed to resonate with the locals who may have grown a little weary of the highly conservative and rigid Buddhist leaders of the time.
Drukpa Kunley is also the reason you will often come across phallic imagery throughout Bhutan. He proposed the use of phallic symbols as art/illustrations on walls and as flying carved wooden phalluses on rooftops. This was said to ward off evil spirits – attributed to legends that Drupa Kunley would hit demons over the head with his "thunderbolt" to subdue them and turn them into protective spirits.
The phallus became iconic of Drupa Kunley – a symbol of both fertility and the power to bring enlightenment to those who dared to believe! That is why it is sometimes known as the "Thunderbolt of Flaming Wisdom."
Phallus symbols are evident throughout the design of Chimi Lhakhang in paintings and carvings. To this day, the monastery safeguards the original wooden phallus symbol embedded with a silver handle; Drukpa Kunley is said to have brought it with him when he arrived here from Tibet. It is considered a religious relic and is used for blessing the devout. Homes in the area display painted phallic illustrations on their walls while shops sell phallus curios of varying sizes, including standing statues.
Chimi Lhakhang is renowned throughout Bhutan. Thousands, including visitors from all over the world, visit this "Fertility Temple" in the hope of having a child, as well as receiving a wang (blessing), from Drukpa Kunley. Wooden phalluses are still kept by the monks, used to bless women who seek to conceive.
High on top of the Dochula Pass (3,100 metres), a mountain pass on the road from Thimphu to Punakha, overlooking the Himalayas, is a cluster of 108 chortens known as 'Druk Wangyal Chortens' built in memory and honour of the fallen Bhutanese soldiers in a military operation in 2003.
The Dochula Pass is not only a site of immense historical and religious importance but also a hugely popular tourist spot for both domestic and foreign travellers in Bhutan. It is one of the most beautiful and unique passes you could ever see. The small but striking chortens rest peacefully on the lush green hillside, silently telling stories of valour, spirituality, and Bhutanese culture.
The drive from Thimphu to Dochula Pass is simply splendid. And once you're at the Pass, 360-degree panoramic views of the magnificent snow-laden Himalayan peaks greet, especially on a clear, sunny day.
Perched on a ridge amid pine trees and overlooking the valleys of Punakha and Wangduephodrang, stands the magnificent Sangchhen Dorji Lhuendrup Lhakhang. The temple is famous for its 14-foot bronze statue of Avalokiteshvara. Other statues include those of Guru Padmasambhava, Gautama Buddha, and of other Buddhist teachers and deities. The temple complex also houses a permanent higher learning and meditation centre for anims (Bhutan's Buddhist nuns) where, apart from religious instruction, life skill training in arts such as tailoring, embroidery, statue making, and thangka painting are also taught. It is a beautiful opportunity to engage with the anims, observe their activities, and even meditate with them.
If all you have are 5-6 days then Punakha is about as far as you would be able to cover. However to get the most out of your Travel to Bhutan you need to travel to Eastern Bhutan. You can find about Eastern Bhutan here.
Other Recommended Blogs
Where Should You Go for a Tiger Safari in India?