The most sought-after National Parks in India for a tiger safari and many more exciting wildlife adventures are listed below -
Ranthambore National Park, Rajasthan
Pench National Park, Madhya Pradesh
Tadoba National Park, Maharashtra
Bandhavgarh National Park, Madhya Pradesh.
Kanha National Park, Madhya Pradesh
Jim Corbett National Park, Uttarakhand
Nagarhole National Park, Karnataka
Sunderban National Park, West Bengal
Kaziranga National Park, Assam
Satpura National Park, Madhya Pradesh
With so many wildlife experiences to choose from, planning a wildlife safari can be a daunting task. What is a good tiger safari holiday without unique sightings, campfires, and luxurious accommodation? Believe it or not, the idea of staying in the vicinity of the national park with pristine nature views from your room and short game drives to enjoy morning and evening tiger safaris is certainly intriguing, exciting and calming all in one. And the Wildlife Parks in India offer you just this!
Give it a thought, your next tiger safari holiday in India could be this and more …
Why choose Ranthambore National Park for your tiger safari?
The Ranthambore National Park is in the vibrant state of Rajasthan. A tiger safari to Ranthambore can be easily combined with holidays to Delhi, Jaipur, Agra and Bharatpur. With multiple accommodation options available for all budget types, a tiger safari to Ranthambore National Park is not only affordable but also excellent value for money.
Game viewing on a tiger safari in Ranthambore is a sheer delight, the tigers are mostly friendly and are often known to pose and play with the safari jeeps. The famous tigress Machli until 2016 and now her daughter Sundari, are believed to be icons of this Park, not only for their dominance and beauty but also because they are sighted and photographed frequently.
Who knows, you could be the next vacationers whose tiger safari might witness Sundari's playful posing ways!
Best time to visit the Ranthambore National Park is from October through June. Tiger sightings on the safari are extremely high, especially between March and May. On a safari, guests could also see many more delightful sights like Leopards with Cubs, Sambars herds, Wild Boars, Sloth Bears, Chinkaras, Black Bucks, Jackals and more.
Why choose Pench National Park for your next tiger safari?
The Pench National Park is quite literally in the heart of India-Madhya Pradesh. Combine a tiger safari to the Pench National Park with a holiday to Mumbai and extensions wildlife tours to Tadoba, Bandhavgarh and Kanha National Parks.
A tiger safari here can be a truly magical one as Pench National Park is believed to be the inspiration of the world-famous 'The Jungle Book' by Rudyard Kipling. Wildlife buffs can not only enjoy a tiger safari experience at this Park but also revel in the joy of spotting their very own versions of the characters from the Jungle Book; Akela -The Indian Wolf, Raksha-The female Wolf, Baloo-The Sloth Bear and Sher Khan- The Royal Bengal Tiger.
On a safari in Pench, your chances of spotting a tiger in action are quite high. Visitors on a tiger safari here, as recently as early 2020 witnessed history in the making as two Royal Bengal Tigers chased a deer to hunt it down. Magically this rare tiger safari sighting was captured on video and has gone viral ever since with over 15000 views and counting…
What an amazing day for the tiger safari enthusiasts… who knows, you could be the next lucky traveller to be enthralled by yet another tiger safari spectacle at the Pench National Park. Visitors to the Pench National Park can add more adventure to the wildlife safari experience by combining camping, nature trail walks and climbing treehouses while holidaying.
Visit the Pench National Park for a tiger safari October through June. The probability of a tiger sighting on the safari is high as this national park boasts of a sizeable healthy and happy tiger population. In 2008, it was the filming ground for the famous BBC documentary about the behaviour of tigers titled "Spy of the Jungle". On a safari, guests can also spot the Four-horned Antelopes, Leopards, Chital, Jungle Cats and may more delightful animals include flocks of birds like the Peafowl, Pintail, Lesser Whistling Teal and many more.
Why choose Tadoba National Park for your tiger safari?
The Tadoba National Park is a hidden gem on India's wildlife circuit for a tiger safari experience. It has a rich biodiversity with dense forest areas, smooth meadows, deep valleys that are ideal for wildlife to flourish. The thrill of being in this National Park is accentuated by the opportunity to indulge in a tiger safari that not only includes open-top jeep safaris but also game viewing from natural and man-made vantage points inside the Park.
With direct flight connection from Delhi and Mumbai to Nagpur, which is 2-3-hour drive from the Tadoba National Park, a tiger safari here can be combined with a Golden Triangle holiday or a trip to the famous UNESCO World Heritage Ajanta Ellora caves. Using the location advantage of the Tadoba National Park, visitors on a tiger safari here can also plan extension safari experiences to the Pench, Kanha and Bandhavgarh National Parks.
On a tiger safari in Tadoba, sightings are much more than jeep game drives, visitors can sometimes also experience the thrill and adventure of being perched atop unique vantage points like machans and hideouts, making the whole tiger safari viewing experience even more spectacular. Waiting in silence for something-anything-to happen on a tiger safari…one such encounter is of a rare sighting of two male tigers fighting it out for a tigress that went viral and has had over 1.8 million views on various social media platforms. Tiger safari sightings like this one may be rare but who knows you could be that next amateur naturalist to witness another sight to behold!
On a tiger safari in Tadoba visitors can also see the Spotted Deer, Gaur, Leopard, Indian Mouse Deer, Rusty Spotted Cat, Striped Hyena, Barking Deer, Flying Squirrel and many more. If a tiger safari is on your bucket list, it is highly recommended to indulge in a trip to Tadoba. This Park is open to visitors between October and June and higher tiger sighting are seen from March to May.
Why choose Bandhavgarh National Park for your tiger safari?
The Bandhavgarh National Park is famous for its tiger safari experiences. This parks' unique topography of rocky hills interspersed with grassy swamps and forested valleys is a natural habitat for Tigers.
Indulge in a luxurious tiger safari holiday at this National Park with quite a few accommodation options to suit all budgets available in the vicinity of the Park. Travellers can combine trips to Bandhavgarh with the Golden Triangle, the majestic Khajuraho temples or more tiger safaris' in the National Parks of Kanha, Pench and Tadoba.
With three tiger sighting zones, a tiger safari experience in the Bandhavgarh National Park possibly has one of the highest likelihoods of visitors being delighted with a close viewing. It is highly recommended that tiger safari enthusiasts include at least two safaris if not more; one in the morning and another in the evening at this park. Depending on the time of a tiger safari, sightings can be majestic and unique; recent tourist accounts suggest that Dotty -the tigress was spotted with her cubs near a watering hole in the park. The majestic tigress – Kajri is also known to enthralled visitors on a tiger safari, she was recently spotted coming down the hill and then choosing to make the bold move of crossing the road quite literally posing to the delight of the tourist.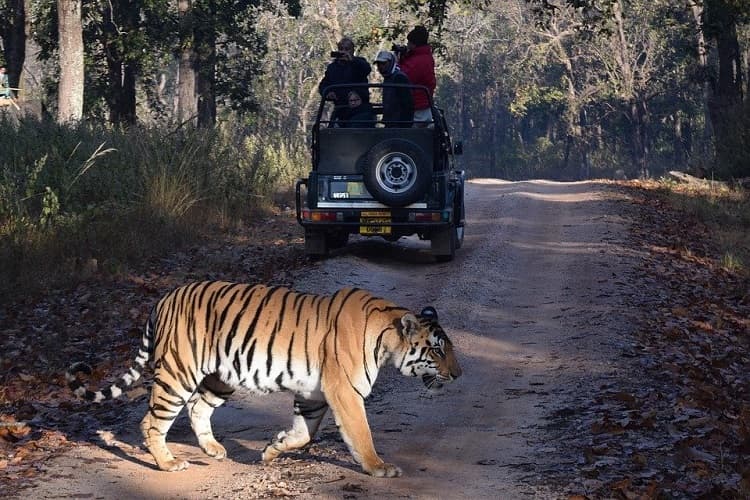 Aren't these indelible tiger safari moments? Your next tiger safari could be this and more…
On a tiger safari in Bandhavgarh visitor can also spot other wildlife such as the Asiatic Jackal, Bengal Fox, Sloth Bear, Ratel, Gray Mongoose, Striped Hyena, Jungle Cat, Leopard, and many more wonderful creatures.
The Bandhavgarh National Park is open October through June and the tiger sighting success rates is believed to be higher on safaris from March to May. However, do keep in mind that tiger safari sightings cannot be simply credited to high spotting periods and many successful sightings are seen and have been historically recorded throughout the visiting season.
Why choose Kanha National Park for your tiger safari?
The Kanha National Park is famous not only as a tiger safari paradise but also credited for successfully breeding back the once-endangered Swamp Deer, commonly known as 'Barasingha – the jewel of Kanha'.
The tiger safari experiences in this National Park have been documented many times, the most famous one perhaps being the award-winning National Geographic Film, "Land of the Tigers" by Stanley Breeden and Belinda Wright.
Tiger safari lovers can not only indulge in morning and evening spotting safaris in the Park but also enjoy spectacular views at Bammi Dadar - the Sunset Point or even chose to camp overnight in the forest. One of the most famous tiger safari sightings at Kanha is truly a rare one that of 2 male tigers fighting over territory…. and then, of course, the stories of the friendly male tiger Munna and his son Chota Munna continue to enthral tiger safari lovers. Your safari experience in Kanha could be the next exciting adventure tale about unique sightings in Kanha…
The Kanha National Park is also home to the Black Panther, Elephants, Bears, Pythons among other species. The Park is open for visitors from October to mid- June, with March to May being ideal to spot tigers and panthers.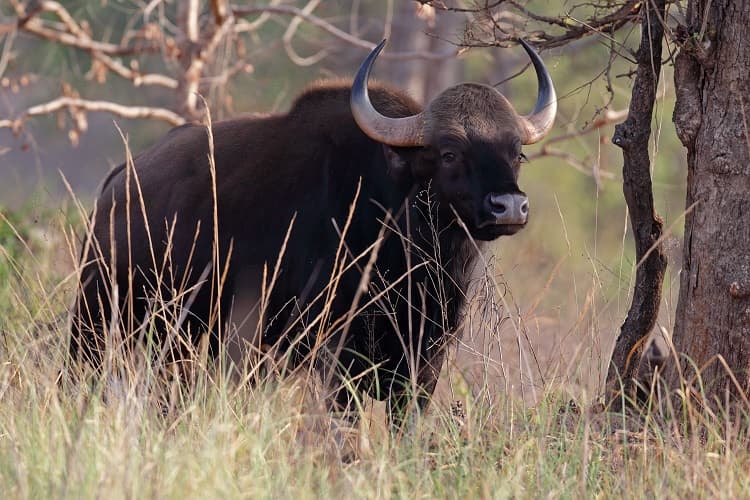 Why choose Jim Corbett National Park for your tiger safari?
The Jim Corbett National Park is India's oldest wildlife reserve and has the distinction of being the destination from where India's Project Tiger initiative started in 1973. A tiger safari in this Park can be a very picturesque one owing to its topography of hills, marshy depressions, riverine belts, grasslands, and the large lake.
The Park is located within driving distance of Delhi and near the hill stations of Nainital and Dehradun. Its convenient location allows visitors to enjoy unique tiger safari experiences alongside spotting animals like the Serow, Goral and Himalayan Tahr who are unique to the Corbett National Park. It is also home to more than 650 species of resident and migratory birds and often referred to as the bird-watching paradise. Tiger Safari sojourners in Corbett can also include night stays inside the park and angling adventures in the Ramganga river.
The park opens for visitors from Mid- November through June. On a tiger safari between March and May, tiger spotting is high and other interesting animal sightings include encounters with Indian Elephants herds that many times constitute of several hundred of them moving together. The Park also is also home to the dangerous Indian python, capable of killing of Chital Deer. The local Crocodile and Gharial species have been successfully bred at Corbett saving them from extinction.
Why combine a south India trip with a tiger safari at The Nagarhole National Park?
The Nagarhole National Park has the unique distinction of being UNESCO World Heritage site and is a part of the Nilgiri Biosphere Reserve. Tiger Safari lovers can combine a trip to the Park with the popular tourist haunts of Bangalore, Mysore, Hassan and Hampi.
A tiger safari in Nagarhole is a beautiful drive through the deciduous forest of Rosewood, Sandalwood, Teakwood, Silver Oak, and bamboo thickets. On a wildlife safari, animal sightings are not limited to tigers, as visitors can also spot Wild Dogs, Indian Leopards, and large herds of the Asiatic Elephants, Sloth Bears alongside many other animal species.
Your safari adventures here can also include trips to the Irupu Falls that so gracefully cascade down tree-lined rocks and picnics on the picture-perfect and tranquil Kabini River. The Park is open for visitors from October to May each year.
Why choose a tiger safari in The Sundarban National Park?
The Sunderban National Park has a unique topography; an archipelago of 102 islands, with only 52 islands inhabited by human beings while the rest are covered with dense forests. Sunderban is also the world's largest Mangrove forest, a declared UNESCO World Heritage site and the only one of its kind that is inhabited by the tigers.
Located near Kolkata, the Park is can be reached by motorboat from Godhkhali Jetty. Kolkata is very well connected to all parts of India, hence combing a trip to the Sundarbans with another tiger safari or a trip to Kaziranga or simply exploring the heritage and culture is very much possible.
Wildlife enthusiasts in the Sundarbans can choose to stay in a resort on one of the inhabited islands or on houseboat style accommodation. A tiger safari in the Sundarbans is unlike any other, as it can only be done by boat!
Tigers of the Sundarbans swim - sunbathe by the river and are perceived to human friendly. Explore the park by boat, visiting the watchtowers of Dobanki, Sajnekhali and Sudhanyakhali for animal sightings. The park is open for visitors between September and March, chances of tiger spotting are amplified in the low tide months November through March.
On a safari adventure, the most alluring sites are those of the animals sun-bathing on the riverbanks, if you are lucky you may also spot the Royal Bengal Tigers enjoying the sun or simply watching out for prey!
Apart from the Tigers, the park is also home to Macaques, Indian Grey Mongoose, Leopard Cats, Wild Boar, Jungle Cat, Fox, Flying Fox, Fishing Cats, Chital, Pangolin, Estuary Crocodiles and Olive Ridley Turtles. Visitors can also delight on the majestic sites of the many species of colourful migratory birds seen around water bodies like the Eurasian Curlew.
Coincide your trip to the Sundarbans with a new moon night, to witness a rare phenomenon of nature… take a boat ride to the creeks just outside the forest to see the Phytoplanktons. These are the small micro-organisms that glow in the dark… Watch the 'Glowing Forests' come to life - a scene straight out of the movie 'Life of Pi'!
What is special about the Kaziranga National Park?
The Kaziranga National Park is a UNESCO World Heritage site and is home to the iconic one-horned rhinoceros. It accounts for 2200 rhino's, approximately 2/3rd of their total world population. It is also the breeding ground for Elephants, Wild Water Buffalo, and the Swamp Deer. The Park was declared a Tiger Reserve in 2006.
The landscape of the Park is a vast expanse of tall elephant grass, marshlands, and dense tropical moist broadleaf forests with the enigmatic Brahmaputra river flowing through it. The Park has four designated safari regions: Ghorakati, Agaratoli, Kohora and Bagori. Animals that can be sighted on a safari are the Tiger, Hoolock Gibbon, Leopard, Indian Elephant, Sloth Bear, Wild water buffalo, swamp deer, and several migratory bird species from Central Asia.
The Kaziranga Park is open for visitors from November to April. Trekking in Kaziranga is also popular, especially in the Panbari and Kukurkata Reserve Forests. On a trek, wildlife buffs can get a panoramic view of floodplain ecosystem from the peak of Kukurkata Hills and many times spot the great Indian one-horned Rhinoceros and Asian Elephants that are known to inhabit this region of the park.
A tiger safari experience in India, is truly unmatched, as it offers nature and wildlife lovers unique sights and sounds that are sure to be indelible holiday memories.
Why Satpura National Park?
The Satpura National Park is in Central India and can be visited with other parks of Madhya Pradesh Pench, Kanha and Bandhavgarh. Experiences in Satpura go beyond a simple tiger safari; try your hand a rustic canoe ride on the Denwa River one early morning and you get lucky to be greeted by playful snipes and wagtails or spot wild boards grazing!
If that's enough adrenaline rush, hop on to a jeep for safari on the forest trails, that brim with activity on the ground and up in the air! Views of a crocodile basking in the sunshine with its mouth wide open, a gaur cuddling a newborn calf, giant flying squirrels playfully squabbling the trees, a sloth bear casually nibbling grass along the jeep tracks, spotted dears running into bushes and more. The park is home to Tigers, Spotted Dear, Leopards, Sloth Bear, Black Buck, Sambar, Four Horned Antelopes, Porcupine and the Smooth Otter.
The Satpura National park is open for visitors October to April, however, tiger sightings here are not extremely high as the expanse of the park is large. However, visitors should take advantage of the location of this park and enjoy the natural beauty of its forests, hills and defiantly spend one night under the starry night skies!
Click here to get our guide as a PDF on your email.