Kerala in South India is one of the most popular destinations in India for international travellers. Kerala is visited for its backwaters, idyllic beaches, plantation highlands, ethnic cuisine, heritage style stays and wide ranging local experiences. Let me summarize some of the best tourist places in Kerala in a nutshell for the first time traveller.
Our Classic Kerala tour package covers most of these Kerala attractions. You can choose to bookmark and read the blog later!
Access
Kochi (Cochin) is the most popular access point for international travellers to Kerala. Thiruvananthapuram (Trivandrum) is a good option for itineraries involving Kovalam (South Kerala), and Kozhikode (Calicut) is good for itineraries involving North Kerala destinations.
Destinations: Best Tourist Places in Kerala
Heritage – Fort Kochi – Fort Kochi (37 kms from Cochin Airport)
is a heritage area of Cochin, overlooking the Cochin harbor. Fort Cochin has a rich history as it has been the hub of spice traders since early 16th Century. Fort Cochin is characterized by heritage hotels, small restaurants, heritage walks and many renowned monuments such as St. Francis Church, Santa Cruz Cathedral and Jewish Synagogue.
Fort Kochi remains one of the best tourist places in Kerala and is popular with international travellers for a stay either at the beginning or end of a Kerala holiday.
Backwaters – South Alleppey / Kuttanad
Alleppey is one of the lakeside and backwater areas of Kerala. 3000 kms of backwaters in South Alleppey is what gives Kerala the tagline of "Venice of the East". The backwaters are an experience unlike anywhere else. A stay around backwaters or a boat ride in these backwaters is popular for capturing the whole backwater lifestyle experience.
Lakeside – North Alleppey / Kumarakom / Ashtamudi
Alleppey and Kumarakom are twin destinations on the Lake Vembanad. North Alleppey and Kumarakom are on opposite banks of the lake offering travellers an identical lakeside experience. Coconut Lagoon in Kumarakom is the pioneer in Kerala resort experience and one of the most renowned holiday resorts especially for experiential travellers. Ashtamudi is an 8 cornered lake near Kollam (70 kms North of Trivandrum). North Alleppey / Kumarakom / Ashtamudi are home to some of the most sought after luxury lakeside resorts and recommended for travellers looking for best tourist places in Kerala for luxury along-with a rejuvenating lakeside experience.
Beaches – Kovalam / Varkala / Mararikulam / North Kerala
Kerala has 600+ km of coastline with many beach fronts. Kovalam and Varkala are twin beach resorts in South Kerala where travellers stay in beach-side hotels for a beach getaway experience along-with Ayurveda therapies (Ayurveda is the traditional Kerala science of wellness).
Tourist attractions in Kerala like Mararkulam (or Marari) near Alleppey is a beachfront renowned for its beachfront retreats and idyllic character. Marari is where travellers arrive for a relaxing and rejuvenating experience. Here you walk around a fisherman's village, hire a bicycle, swim in the Arabian Sea or just enjoy being by the beach. Beaches of North Kerala such as Kannur offer an experience much like Marari. However, stays here are less fancied and beaches more idyllic. Travellers enjoy the beach experience along-with the cultural and cuisine experience of North Kerala.
Varkala / Kolvalam are twin destinations 50 kms apart having beach front hotels, offering a typical European style beach resort experience (with bars, cafes, restaurants, hotels and holiday retreats overlooking the beach).
Plantation Highlands and Rainforests – Thekkady / Munnar / North Kerala
Best tourist places in Kerala are home to destinations that are set around the Western Ghats and where travellers arrive for plantation highland experience. Kerala has been the home of spices such as cardamom, cinnamon, pepper for many centuries and travellers arrive to experience them. Plantation highlands are also home to large scale tea, coffee and rubber cultivations around which, many experiential plantation retreats are situated. Munnar, Thekkady (Periyar) and Wayanad (North Kerala) are the three most popular destinations for a plantation highland experience.
Highlights of a Kerala Holiday
Kerala is best visited for the following:
Fort Kochi
Fort Cochin has a beach front, old Jewish town character (Mattanchery area) and where you can witness Chinese Fishing nets and backwater farming (at Kumbhalangi – 12 km from Fort Cochin). Heritage hotels offer superb views of the harbor front and Arabian Sea. Charming cafes and restaurants in Fort Cochin offer a cuisine that is a delectable mix of colonial recipes and Kerala spices.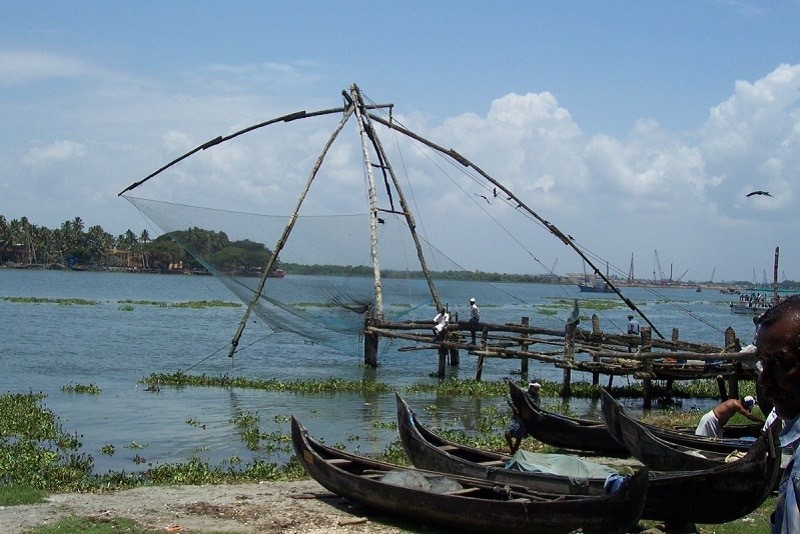 Backwaters of Kerala
A stay by the Kerala backwaters is often the highlight of a Kerala trip. An overnight houseboat cruise is most popular as it offers exclusivity while being around the backwaters. Some of the experiences here include canoeing, market visit, toddy tapping, craft village visit. However the most memorable experience in backwaters is its ethnic cuisine, especially the seafood.
Plantation Highlands of Kerala
Plantation highlands offer a refreshing evergreen backdrop along with some superb retreats that combine superb hospitality, modern luxury with some authentic Kerala experiences. Travellers here undertake plantation walks, bird watching, spend time with elephants and explore reserve forest areas. Travellers to these best tourist places in Kerala also consider staying in a working plantation or experiencing a tree house stay.
Beaches in Kerala
Kovalam and Varakala are beachfront holiday resorts with a combination of beach front hotels restaurants along-with activities and a beach resort character. This is where international travellers arrive to spend a few days enjoying warm weather and swimming in the Arabian Sea.
Mararikulam and North Kerala beaches are about idyllic character and cultural experience that they present alongwith. So this is where travellers spend time cycling around villages, taking long walks on the idyllic beaches, seeing fisherman bring home fresh catch and enjoying some cultural experience (like Theyyam, the temple ritual in North Kerala).
Boutique Hotels / Heritage Homestays / Experiential Retreats in Kerala
Kerala has its share of branded hotels. However, what Kerala is renowned for is its exclusive stays that offer an experience. Fort Kochi is renowned for its heritage style boutique hotels, backwaters are renowned for heritage homestays whereas highland areas have wide ranging plantation retreats. Kerala offers an experience of staying in the heart of a working plantation, 300 year old heritage homestay, a tree house in the heart of a rainforest and hotel chains such as CGH that are designed to showcase the experiential character of Kerala.
Fairs, Festivals and Cultural Experience of Kerala
Kerala is renowned for its festival and cultural experience that comes with it for an international traveller. Most renowned festivals of Kerala comprise Boat Races (e.g. Nehru Trophy Boat Race in Alleppey), Temple Festivals with Elephant Processions (such as Trichur Pooram in Thrissur). For every traveller, cultural centres at Fort Kochi (Greenix Village) or Thekkady (Navarasa Kathakali) offer an insight into dance forms of Kerala whereas centres like Kadathandan Kalari offer an insight into Kalari, the martial art form of Kerala.
Ethnic Cuisine of Kerala
Kerala offers the most extensive range of cuisine that is unique to Kerala, unlike anywhere else in India. Kerala cuisine incorporates recipes made from local produce and spices and are available across Kerala in local as well as specialty restaurants. Cuisine varies with every district and every region of Kerala offers its own unique recipes and flavors. In addition to this, communities in best tourist places in Kerala have their own unique cuisine variants (e.g. Syrian Catholic cuisine), making Kerala a favorite with foodies and culinary tours. For every traveller, a festive meal in Kerala served on plantain leaf (Locally known as "Sadhya") is considered an experience.
Ayurveda in Kerala
Ayurveda is the age old Kerala science of wellness. Almost every resort / retreat in Kerala offers some form of Ayurveda therapy. It is popular for travellers to enjoy at least one session of Ayurveda massage. Ayurveda offers rejuvenation, body purification and cure for many chronic ailments. A longer stay is popular with wellness centric international travellers who arrive for wellness solutions based on this amazing age old science of wellness.
Kerala Holiday Ideas
Best tourist places in Kerala are best traveled as part of the circuit. We have a number of itineraries for Kerala which can be customized as per your preferences.
Kerala - God's Own Country – An itinerary that explores the popular destinations of Kerala such as Fort Kochi, Periyar (Thekkady), Lakeside / Backwaters (Alleppey and Kumarakom) and Highlands (Munnar).