1. Manesar, Haryana
An industrial township at large, Manesar is one of the rapidly growing parts of the country. One can expect Manesar to become a full-fledged city in a few years. Even so, the place is visited by countless people for the breath-taking views of the Aravali Hills it offers. The place is also known for picnic scenes at Damdama Lake, nature-walking in Sultanpur Bird Sanctuary, and the revered temple of Sheetla Devi. Gujarat Haveli, Rajon ki Baoli, Heritage Transport Museum are some more sites to visit in Manesar. It's a good thing that there are a few great hotels in Manesar that would make your stay not only comfortable but luxurious.
ITC Grand Bharat
Nestled amidst the rustic vibes of the Aravalis, ITC Grand Bharat boasts of ultimate luxury, in terms of rooms, food, and services it provides. Along with India's first all-suites luxury experience, ITC Grand promises access to a grand décor, which is embellished with a private terrace, modern bathroom, and vintage lights. The place also offers services to ensure the holistic well-being of their guests. From traditional massages, yoga sessions, aromatic and ayurvedic therapies to meditation spa treatment, ITC Grand is magical in every sense. Dining options include Aravali Pavilion, The India Room, the Peacock Bar, and Apas Promenade, which ensure the finest flavours of Indian, Asian, and European cuisines. To experience more of this grand hotel, visit Manesar soon.
Distance from Delhi – 62 km
Heritage Village Resort and Spa
This 4-star hotel is lush with elegant rooms, natural landscapes, outdoor pools, and all things opulent. The Tea Lounge that overlooks the pristine pool is one of the highlights of this mesmerizing hotel. This resplendent boutique hotel gives off the vibe of a lavish Rajasthani Haveli, and that attracts an influx of tourists from different parts of the country. Apart from serving guests in its unique rooms, the place also serves as a stunning option for weddings and other extravagant events. There are ample number of activities for you to indulge in during your stay here. You can book a spa treatment, ayurvedic massage, or a tour of Manesar. However, if we had to choose one reason to book our stay at this resort, it would be its excellent standards of hospitability.
Distance from Delhi – 56 km
Tarudhan Valley Resort
A soul-stirring resort sprawled amidst the yellow fields of maize and mustard; Tarudhan Valley is grand in every sense of the word. The glory and charm of this place can be understood by its Standard 9 Hole Golf Course, designed by one of the best golf course architects in the world. Big and spacious rooms with large windows that open to the cobbled pathways, serene views, and blooming flowers in a vibrant garden in the morning and whiff of lemon trees and the shine of moonlight on the floor, this is how incredible this resort is. Yes, it is like a dream. Apart from decorated rooms fitted with modern equipment, the place is also emblazed with fitness centres, spa rooms, food and beverage outlets, games courts, and outdoor swimming pools.
Distance from Delhi – 63 km
2. Agra, Uttar Pradesh
The city of love needs no introduction – one word, the Taj Mahal. If you live in Delhi, chances are you have already visited this traditional city that attracts thousands of people from across the world to witness the monument of love. Apart from Taj Mahal, you can also explore the forts, mausoleums, and art left by the Mughals during their era. The city is also known for its famous Agra ka Petha, chaat, and lassi. Here are some of the best places to stay in Agra.
ITC Mughal
If you demand luxury during your stay in a hotel, then the grand ITC Mughal is the perfect accommodation for you. This 5-star hotel is an architectural and cultural tribute to the great Mughal era. The rooms, the dining lounge and the banquet halls offer glimpses of the great Taj Mahal. In fact, the view of Taj Mahal shining under the silver of the moon at night is simply unmissable during your stay at the hotel. Spa treatments, therapies, yoga, recreational activities, and fine-dining are some of the must-do things in this spectacular hotel.
Distance from Delhi – 200 km
Sarovar Premiere
A 4-star hotel located in the heart of Agra, Sarovar Premiere is known for offering mesmerizing view of the majestic Taj Mahal. No wonder it attracts both Indian and international tourists to revel in the services of the hotel and views of the stunning monument. Apart from big and beautiful rooms, the place is also decorated with three restaurants – fine-dine, open-air grill and a bar to serve the guests as per their liking. There is also a plethora of services offered by the hotel, including a fitness centre, spa, outdoor swimming pool, kids' zone, and massage rooms.
Distance from Delhi – 242 km
The Taj Vilas
As the name suggests, this 3-star hotel promises to offer a unique experience to every guest. This beautiful hotel is known for its gourmet experiences, heart-stirring décor, and peaceful ambiance, even though it is settled a minute away from the grand Taj Mahal monument. The main focus of the staff is to serve their guests with best service and hospitality. Perhaps this is the reason why the guests often revisit this hotel again or extend their stay here.
Distance from Delhi – 240 km
3. Hapur, Uttar Pradesh
This ancient city of worship is marked with a number of sacred places and temples that are more than 500 years old. The place is also dotted with some ancient monuments, Kuchesar Mud Fort being the most popular amongst them all. There isn't much to do here but this place is a paradise for history and art lovers. Plus, you get to stay in any of these lavish hotels.
Mud Fort Kuchesar
A heritage hotel located near Hapur, Mud Fort Kuchesar is absolutely awe-inspiring. This alluring Haveli-like hotel is gloriously settled on the plains of Ganges Basin and casts a spell of its charming beauty on the visitors. A two-hour drive from Delhi, this hotel is everything that will make you want to spend an entire weekend within its premises. Princely décor, Indian cuisines served amid regal settings, rooms that are impressive enough to make you feel like a king, and greenery all around the Fort is quite an attraction for the guests, in a way that can only be felt after you see its grandeur.
Distance from Delhi – 102 km
The Fort Unchagaon
Decorated with brimming mango groves, Fort Unchagaon is certainly one of the most beautiful heritage hotels of India. At first sight, it gives an impression of a King's Palace and that it is straight out of the bygone era. The royalty and charm of this Fort generally devours the guests and thus, it makes the perfect weekend getaway from Delhi. Even though this hotel is regal in appearance and nature, it is equipped with all the modern amenities. Thus, your stay here is going to be quite a memorable one.
Distance from Delhi – 20 km
4. Alwar/Sariska, Rajasthan
Alwar, the gateway city of Rajasthan, is embroidered with the Aravalli hills on all sides and overlooks all things royal and ancient about the land of Rajputs. From rich wildlife, serene lakes, regal palaces, exquisite monuments, and unexplored forest trails, Alwar is everything that's on a traveller's mind. The place is most popular as it is home to Sariska National Park, known for deciduous forests and rocky hills. No wonder the staying options in and around this popular Rajasthani city are quite many and splendid. The best ones are listed below.
Amanbagh
This 5-star hotel is known for its architecture that has found its roots in the Mughal era. This unique place of stay is unusually calm and carries peaceful vibes in all its corners. The resort is surrounded with various culture sites, forts, and villages for you to explore. The rooms are absolutely eye-catching as they are elegant and come with their own courtyard. The wellness, adventure, and dining experience here is also extraordinary.
Distance from Delhi – 250 km
Utsav Camp
Do you like the idea of sleeping under the stars, or relaxing amid raw nature? If yes, then Utsav Camp will provide you with the same under a 4-star experience. Located near Sariska National Park, the Camp offers safaris, nature walks, swiss tents, glamping experiences, delectable food and many other services.
Distance from Delhi – 220 km
Dadhikar Fort
A stunning heritage hotel settled amidst the charming vibes of the Aravalli Hills, Dadhikar Fort encompasses the ancient Indian culture and art. This traditionally rich hotel is totally worth a visit from Delhi, for its royal services, imperial rooms, and dinner under the stars and over candlelight. The folk and classical music show during the evening is another reason to spend your weekend here for it will fill you with authentic cultural vibes.
Distance from Delhi – 170 km
Alwar Bagh
Covering an area of 7 acres, this 3-star heritage property is located quite close to Sariska Tiger Reserve and surrounded by the ancient Aravalli hills. This stunning resort is a great place for both a weekend getaway for fun and corporate meetings. The rooms are big and elegant, the food is appetizing, and there are various activities that one can indulge in, such as paintball, shooting, massage, spa treatment, racing, safari, and excursion trips in the wilderness.
Distance from Delhi – 178 km
5. Neemrana
This historic city is known for its forts, temples, lakes, springs, and museums. One can try the authentic Rajasthani food in the stunning Neemrana Fort Palace, the most popular place to visit in this amazing city. It is located at an equal distance from Delhi, Agra, and Jaipur and for this very reason, Neemrana is known as the heart of the 'golden triangle.' For your weekend break, you can stay in one of these dazzling hotels.
Neemrana Fort Palace, Rajasthan
A perfect weekend getaway from Delhi, Neemrana Fort Palace looks like a royal paradise from a distance. The place is lush with historically-rich rooms that come as a part of palace wings and is surrounded by greenery all around. This palace-like heritage hotel is also decorated with 6 acre of garden, swimming pool, Ayurvedic massage and spa rooms, and restaurant that delivers lip-smacking food. Another highlight of this magnetic place is it is more than 550 years old. This place is also the first to offer India's first zip-lining experience. If there is one word to describe the beauty and charm of this place, it's magical.
Distance from Delhi – 129 km
Ramada Neemrana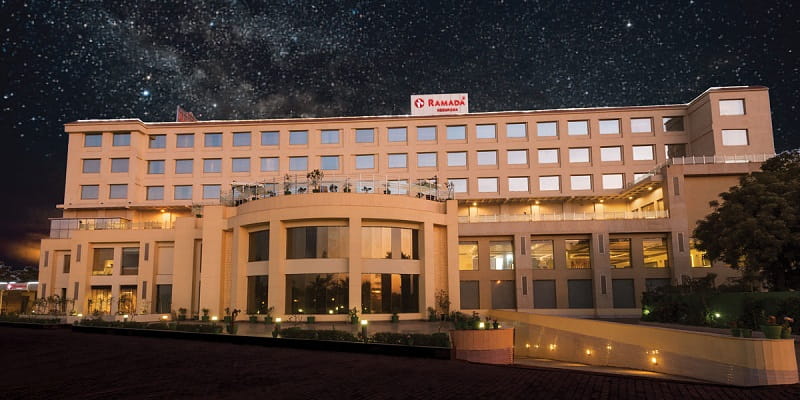 Located on Delhi-Jaipur Highway (NH-8), Ramada is one of the most prominent hotels of Neemrana. The rooms breathe luxury and elegance and are accompanied by world-class hospitality that often impresses the visitors. For this reason, this place is also quite popular amongst international tourists. The hotel is also known for its exceptional dining services and wellness centres, that comprise of spa and jacuzzi, swimming pool, fitness centre, and authentic spa and massage centre.
Distance from Delhi – 99 km
Cambay Sapphire
A gorgeous property established in the heart of Neemrana, Cambay Sapphire strings along a luxurious stay, with opulent rooms, multi-cuisine restaurants, an exquisite spa and fitness centre. The dining experience in this hotel promises a wide range of cuisines, ranging from Thai, Mexican, Chinese, Italian, to Continental. Overall, you will have a great time during your stay at the hotel.
Distance from Delhi – 128 km