1. The Jessica Estate
Location: Berawa, Canggu
If there is one word to describe this villa, it's magical. The Estate is located in the very heart of Southern Bali and can accommodate as many as 30 people at one time! Embellished with outside pools, fitness centre, beautiful gardens, and a shared lounge, this resplendent villa also boasts of big and beautiful rooms that offer 24-hour room service.
The highlight of staying in this exotic villa is its proximity to the divine Berawa Beach, which is located at a distance of about 2.8 km. Another reason to book your stay in this villa is for the numerous services it offers, including free private parking, free Wi-Fi, 24-hour front desk service, and incredible barbecue space.
Surrounded by lush green vegetation, the Estate is also known for its water park, which is set up close to the accommodation area of the villa. Additionally, the guests can relax at the long and attractive sun terrace that looks awe-inspiring on moonlit nights. Also, the in-house spa treatment is one of the must-do things for anyone spending a day or two in this gorgeous property. Villa The Jessica Estate is thus, one of the top Bali Villas in Canggu.
2. Villa Como
Location: Gn Manu, Tibubeneng, Canggu
Villa Como, a private 4-bedroom villa in Bali is set amidst a stunning location, which is surrounded by natural landscapes, with the popular Finnis Beach Club at a distance of about 1.2 km. The rooms of Villa Como Bali are luxurious in every sense of the word. There is no end to describing the beauty of this alluring property. To begin with, the place offers free Wi-Fi, TV, delectable food as well as hot and cold beverage, open-air space to chill, outdoor swimming pool, etc.
For your entertainment, this impressive property also arranges for complimentary Netflix streaming service in your room, which brims with brightly-lit lights, a fully-equipped kitchen and a gorgeous bathroom. One of the top Canggu private pool villas, Villa Como is known for its huge swimming pools and the exotic poolside area. The place also has a lit barbecue service space for everyone who wants to indulge in this experience. One can explore the nearby areas of this property via bicycle or car rental service, arranged by the villa itself. Some of the popular nearby places that are worth-a-visit include Old Man's, Milk and Madut, La Laguna Bali and Berawa Beach.
3. Villa Kubu 36 Canggu
Location: Canggu
If you are looking for a villa in Bali near the beach, then Villa Kubu Canggu is certainly the best choice for you! This opulent villa is located at a distance of 1.2 km from Nelayan Beach and Batu Belig Beach, and 1.1 km from Berawa Beach. The villa is fully air-conditioned and has 4 bedrooms that are complete with a well-maintained kitchen, impressive bathroom, a flatscreen TV, a dining area, and a refrigerator.
This splendorous property is located at a distance of 16 km from Ngurah Rai International Airport, and offers a paid pick-and-drop airport shuttle service for the guests. Some of the popular places in Bali, including Vue Beach Club and La Laguna Bali, are located quite near to the villa. Additionally, the place also comes with outdoor swimming pools, free private parking, spa and other wellness treatments, free Wi-Fi, barbeque space, and other facilities for its guests. In a nutshell, your stay at Villa Kubu 36 will simply be a delight.
4. Nil Villa Seminyak
Location: Drupadi district, Seminyak
Nil Villa Seminyak is built in true Balinese style to help the guests get a complete feel of this beautiful destination. One of the most luxurious villas in Seminyak near beach, Nil Villa is exuberant with hand-made fabrics that enhance the interior of the 3 bedrooms, lounge, and living area. The artwork of the villa is also inspired by the local stonework, in a way, that exhibits the vibrant nature of all things that are a part of Bali.
Apart from an impressive interior, this opulent property is also one of the most in-demand Seminyak private pool villas in Bali. The outdoor pool sparkles with piercing blue water and remains to be one of the favourite places of guests to hang out during their stay in the villa.
The place is also equipped with modern services, such as free private parking, air-conditioned rooms and terrace area that offers picturesque of this extraordinary island. Another bonus of booking Nil Villa Seminyak is that it is located close to many popular places in Bali, such as Double Six Beach, Petitenget Beach, and Legian Beach. The villa is located at a distance of 10 km from Ngurah Rai International Airport and pick-up and drop service from the airport is provided by the staff. With all these great services and modern amenities, no wonder this extravagant property is one of the most famous Bali villas in Seminyak.
5. Villa K
Location: Jalan Raya Legian
Villa K, Bali is furnished with richness and top-class amenities for anyone who is looking for a quiet getaway with family, friends, or spouse. This dazzling villa with 2 bedrooms is located at a distance of 600 m from Legian Beach in Legian, which makes it a favourite of sea-lovers and nature enthusiasts. One of the main attractions of this villa is its lavish private pool, which is intricately carved amid lush greens to soothe your senses as you witness the breath-taking view of the Indian Ocean. A balcony terrace, a lovely garden, and a colourful garden are other enchantments that draw attention to this villa. The air-conditioned rooms offer vivid views of the beautiful land of Bali. Located at a distance of 9 km from Ngurah Rai International Airport, Villa K, Bali, is also settled close to the various point of interests, including Double Six Beach, Kuta Beach, and Legian Art Market. As per many customer reviews, Villa K is one of the favourites and most popular places of Legian.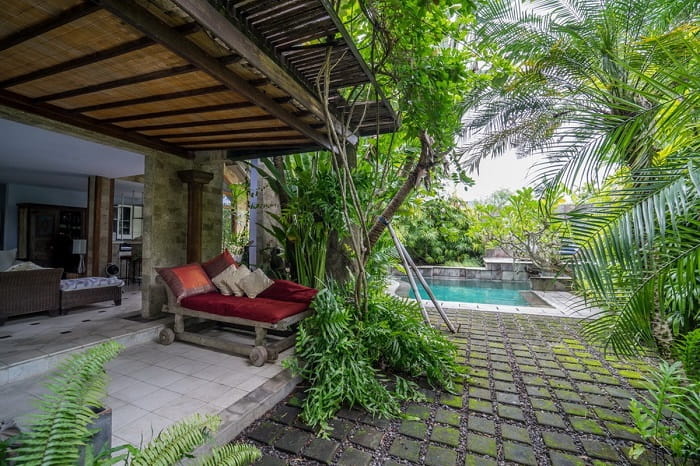 So, if you are already planning to book your ticket to Bali, then allow us to make your vacation look like a dream for we will accommodate you in some of the most luxurious villas and help you get the authentic taste of Bali and all things that come with it.